On Tuesday Facebook announced that it was acquiring Push Pop Press, a digital book maker that specializes in interactive books for the Apple iPad and iPhone.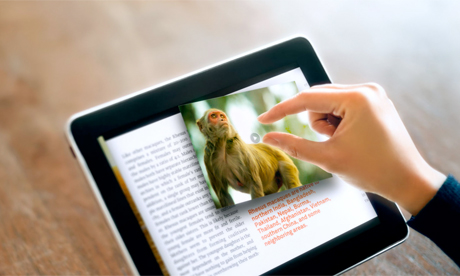 According to Push Pop Press, "Although Facebook isn't planning to start publishing digital books, the ideas and technology behind Push Pop Press will be integrated with Facebook, giving people even richer ways to share their stories."
Push Pop's HTML-5 heavy multimedia ebook, Our Choice ($4.99) was not just an app, but a showcase for their publishing platform. It includes an editor, a publishing and hosting service and a document format. The plan was to eventually open it out to external publishers.

Facebook's move into other forms of entertainment, like gaming and movies, demonstrates that the company is looking at other forms of revenue beyond standard advertising, says the NY Times. Push Pop's co-founders, Mike Matas, was a former Apple designer who designed many of the key interfaces you probably interact with every day if you own an iPhone, an iPad or a Mac, says ReadWriteWeb.
Meanwhile Twitter has just announced an HTML5-based app for iPad. The full HTML5 app is said to be based on Twitter's HTML5 client for iPhone and Android. Twitter says there are over one million registered applications for the platform, up from 150,000 apps just a year ago.
According to ABI Research, 2.1 billion mobile devices will sport HTML5 browsers by 2016—largely thanks to Apple, which has shunned Adobe's Flash in favor of the Web standard. While the HTML5 standard isn't expected to be complete until 2020, per the World Wide Web Consortium (W3C), ABI Research is forecasting swift growth
Print book sales fell 25 percent in the first quarter of 2011, while ebook sales rose more than 169 percent, according to the Association of American Publishers. Amazon.com reported in May that electronic book sales surpassed print book sales for the first time.
Condé Nast has managed to attract 242,000 digital edition customers within a six-week period after introducing subscriptions on Apple's App Store in May. That number includes digital subscriptions, digital single copies, and the 136,000 print subscribers who have opted to add digital editions at no extra cost to them. Looked at another way, the publisher drew 106,000-digital only sales not tied to existing print subscriptions, suggesting that it may be finding incremental value by accepting Apple's iTunes Store terms after all. Condé Nast says that The New Yorker's iPad version now has 100,000 readers, including about 20,000 people who have subscribed for $59.99 per year. In addition, "several thousand" people buy single weekly issues for $4.99.
Time Inc.offers free access to its iPad apps for print subscribers of People, Sports Illustrated, Time and Fortune. But the publisher does not offer iPad-only subscriptions.
Related HTML stories on Dailywireless include; HTML5 Tool Previewed by Adobe, PhoneGap: Open Source Mobile App Tool, HTML5: Solving Platform Fragmentation , Mozilla: Open Source Competition for Android?