Android owners are the least prepared for mobile security threats, according to a new Gadgetology survey from Retrevo.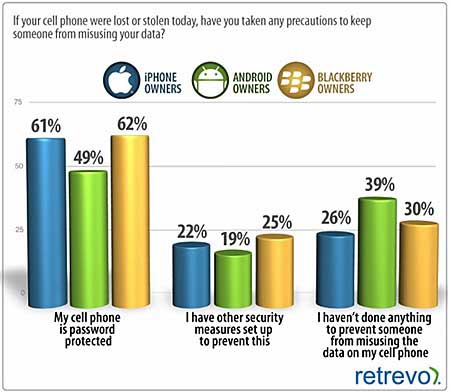 Some 39% say they haven't taken any precautions to prevent someone from misusing data on their cell phone if it were lost or stolen. That compares to 30% of BlackBerry owners and 26% of iPhone owners who say the same:
More than six in ten BlackBerry owners (62%) and iPhone owners (61%) say their mobile phones are protected via password, compared with 49% of Android owners who say the same. More than one-third of online adults (36%) say they have dropped their mobile phone in a toilet or know someone who has done so.
Geographic research from mobile ad network Jumptap shows California, Texas and Florida skew toward Android, while New England and Midwest states, including Indiana, Illinois and Missouri, swing toward iOS. Jumptap's U.S. mobile map also shows that BlackBerry is dominant in a handful of states, including New York.