Amazon today officially launched its Kindle Cloud Reader, a web app that lets people browse their Kindle books on the iPad and other devices — and make Amazon purchases from within the app. Amazon's Cloud Reader lets you read your Kindle books, instantly, on Amazon's cloud. It support the Chrome browser on Mac/PC/Linux/Chromebook, Safari on Mac/PC and iPad. Support for additional browsers is coming soon, says Amazon.
TechCrunch explains it's a web-based version of their Kindle eBook reader app (above). It allows you to read your books from the cloud or to download your books for offline reading thanks to the magic of HTML-5.
Features of Kindle Cloud Reader include:
Instant access to all of your books
Start reading over 950,000 Kindle books instantly within your browser
An embedded Kindle Store optimized for your web browser makes it seamless to discover new books and start reading them instantly
New Kindle Store for iPad is built from the ground up for iPad's touch interface
Your current book is automatically made available for offline use, and you can choose to save a book for reading offline at any time
Receive automatic software updates without the need to download new software
Select any book to start reading, customize the page layout to your desired font size, text color, background color, and more
View all of the notes, highlights, and bookmarks that you've made on other Kindle apps or on Kindle
Sync your last page read across your Kindle and free Kindle apps so you can always pick up where you left off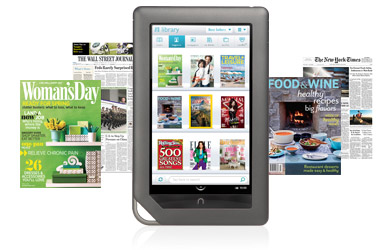 The success of the $250 Color Nook has stimulated speculation of the expected color Kindle that would likely use Amazon's Android App Store, Amazon's Music Cloud service and Amazon's Instant Video Download store. The new EPUB-3 spec for ebooks supports HTML-5 with embedded audio and video.
Downloading audio and video directly to a Color Kindle reader is the problem. The Kindle's built-in 3G connection from AT&T was only designed for text-based ebooks — not web surfing. That implies a Color Kindle must use WiFi or subscribe to a monthly data service. Downloading a movie on a Kindle would require some flavor of "4G".
Here are some other speculations:
A 7″ and 10″ versions are rumored, with the 10″ supporting HD video
At $199 for a 7″ color model it would be a loss leader, but could make it back on content.
Might have Kindle-like keyboard and page turning buttons.
Evolving support for E-Pub3 for multimedia ebooks.
Packaged data plans from various carriers.
Streaming Netflix-like video would also be available through landline/WiFi connections.
Packaged with Newspaper and Magazine subscriptions (and color display ads).
Samsung's Celox has an interesting set of features. The Android 2.3 phone has a 4.5-inch Super AMOLED display with 800×480 screen resolution, a 1.5GHz dual-core Qualcomm Snapdragon APQ8060 chipset and runs on TD-LTE in the 2.6 GHz band. Takes a variety of USB peripherals. A lower-end color Kindle might use 3G connectivity with WiFi. The cloud has the content. WiFi provides the link.
If multi-media books and magazines are the future, Amazon is ready to go.