The UK government is considering cutting off social networks and messaging services such as Twitter and BlackBerry Messenger at times of social unrest.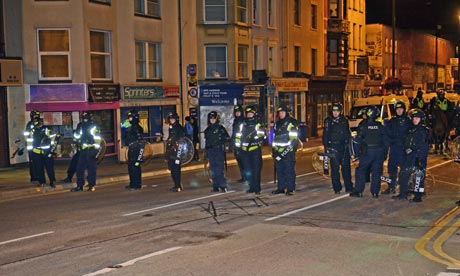 Prime Minister David Cameron said in a statement.


"Everyone watching these horrific actions will be stuck by how they were organized via social media. When people are using social media for violence we need to stop them. So we are working with the police, the intelligence services and industry to look at whether it would be right to stop people communicating via these websites and services when we know they are plotting violence, disorder and criminality."

More than 1300 people have been arrested since rioting broke out in London on August 6, which has forced many UK courts to work 24 hours.
BlackBerry Messenger on BlackBerry phones, along with Twitter and Facebook, are said to have been widely used by the rioters to organize themselves. BlackBerry Messenger also offers some protection by scrambling communications in transit, and sometimes also allows users to encrypt communications.
The BlackBerry Messenger is a popular instant messaging tool for rioters. While Twitter is very much a public platform, BBM can be used to communicate between groups in private. It's free to use (unlike text messages) and you can instantly see when someone has read a message.
BlackBerry maker Research In Motion already said earlier this week that it is cooperating with UK officials to access data related to the riots. Hacker group TeaMp0isoN (Team Poison) did not approve of RIM's cooperation and hacked the BlackBerry official blog, threatening to access and release information from RIM's employee database should the company help police identify rioters.
Twitter too has come in for criticism for its role in the riots, even though it was used to many positive ends too. For example, a Bristol-based cyclist took it upon himself to cover the riots in his city, tweeting only "unbiased and verified information" about looting and violence. And it was used to organize clean-ups across London too.