A Boston firm believes broadband should be shared. They plan to provide free access to wireless broadband to anyone in range of its WiFi equipment – supplied at cost.

NetBlazr starts with gigabit fiber from Cogent Communications and packages it with three NanoStation access points to create cell-like 150 Mbps sectors. Netblazr delivers free or low-cost access to any customer that is willing to do two things:
Spend $299 for their basic installation kit, which includes a high speed router, three antennas, and some cabling;
Use the included 802.11n WiFi equipment to receive service from NetBlazr and agree to share it with anyone in range of the wireless antennas included in the kit.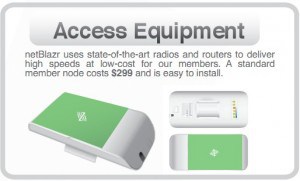 The WiFi access gear runs $299. NetBlazr offers two types of broadband internet service: Dedicated Circuits and Shared Services. Both plans use fiber to the node.
Most businesses prefer the consistency and reliability of Dedicated Circuits, but for small companies or lower priority traffic, Shared Services can be sufficient.
Sub10 Systems, a startup based in Devon, UK, says if you don't have fiber access, that should be no problem. Their unlicensed 60 GHz backhaul system can deliver a full duplex data rate up to 320 Mbps.
Operating between 57 GHz and 64 GHz and measuring only 18 cm × 18 cm (7" × 7"), the terminal integrates active and passive circuit components. Features include:
Easy installation – The '2 box' concept allows an end user to install it. The radio and power source are connected to a network node using a single, outdoor rated, CAT 5e Ethernet cable carrying power and data. Alignment of the link is done using a visual alignment tool or via a standard multi-meter.
System Administration. Link performance can monitored and optimised via the GUI based management system.
Throughput and Availability. 'Guaranteed' full duplex 320 Mbps rate at the Ethernet, combined with 99.999% availability.
License free operation – The system has been approved and can be operated in many countries.
Security – A complex proprietary radio interface significantly reduces the chance of any other system intercepting the 60 GHz transmitted data. Additionally, a high level of data security is inherent in the product via signal absorption by atmospheric oxygen and the use of high gain/narrow beam width antennas.
Other Gbps wireless gear is available from Alvarion, Bridgewave, Ceragon, DragonWave, E-Band Communications, Gigabeam, Loea, Proxim's GigaLink, and Exalt, among others.
Market research firm Infonetics forecasts strong growth in the microwave and millimeter wave market as macro sites accommodate LTE traffic and feed micro/pico cell sites.
Related Dailywireless stories on Millimter Band radios include; Bridgewave: Microcell 60 GHz Backhaul , Exalt on 5 GHz, DragonWave: More Bits per Buck, 3.65 GHz Gets Real, 70GHz Radios, NextPhase + GigaBeam Deliver SoCal Biz Nets, EZ Wireless Deploys 60 GHz for DOJ, FiberTower to Backhaul Sprint WiMAX, XO Expands Backhaul, and Millimeter Gigabit Gets Competition.