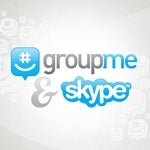 Skype will acquire GroupMe, which it described as "a provider of mobile group messaging services that help users stay in touch and make decisions."
The company said that the deal will provide it with "best in class text-based communications and innovative features that enable users to connect, share locations and photos and make plans with their closest ties." Coupled with its acquisition of mobile video provider Qik, the partnership "augments Skype's role as an innovator in driving unique mobile user experiences."
Terms of the deal were not disclosed.
In a blog post, GroupMe said that "over the last few months, we had been in talks with Skype that started with discussions about potential commercial partnerships. As we got to know the core Skype team better, though, and as our conversations evolved, it quickly became evident that our visions were perfectly aligned."
The mobile and group messaging markets is hot, as a number of companies look to bolster their positions. Facebook recently launched a messaging app, Messenger, following its earlier acquisition of group messaging company Beluga. Apple is set to introduce iMessage imminently, to create a messaging community akin to that of RIM's BlackBerry Messenger. And RIM has opened its BBM platform to third party developers, to enable the integration of messaging with apps.