Saudi Arabia may be the first market to experience mass-market Time Division LTE, reports Light Reading. Etihad Etisalat (Mobily) announced LTE TDD deals with Huawei and Samsung in February and plans a service launch in October.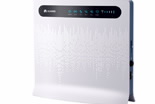 Huawei says its B593 LTE TDD wireless broadband router will be available through Mobily in October. The Huawei B593 features a download speed of up to 100M, enabling operators to expand their subscriber base without the need for fixed network infrastructure.
Meanwhile, Samsung said today that it "plans to launch the industry's first LTE SmallCell solution in Japan in 2012 and the world's first TD-LTE network in Saudi Arabia in Q3 2011."
Samsung has won at least 8 commercial LTE contracts and partnered with more than 30 global operators including KDDI in Japan, MetroPCS and CellularSouth in US and Mobily in Saudi Arabia.
UAE-based Etisalat owns 27% of Mobily, with 45% held by 6 strategic local partners. The company is Saudi Arabia's second nationwide GSM licencee, breaking the Saudi Telecom monopoly in the wireless business.
The Saudi Telecommunication Group provides mobile, fixed and broadband communications services to over 142 million subs in 10 markets.
Some 17 million LTE users are expected in India by 2016, according to a new report from Pyramid Research. The coming weeks will be critical to service providers, vendors and regulatory communities in India, notes Light Reading.
Did Clearwire pick the right flavor of LTE, asks Monica Paolini.
The correct answer is yes. That's because Sprint can easily cut and paste 20 MHz chunks for themselves, for wholesale subsidiaries, or for sale to other operators who need spectrum.
The 2.6 GHz band is a world band (unlike 700 MHz). Chips from Qualcomm, Sequans, and others will operate in both FDD or TDD modes. Why? Two billion potential TD-LTE subscribers in China, India, Australia and many other countries.
Marvell's "world modem", the PXA1801 combines FDD-LTE and TDD-LTE with R8 DC-HSPA+, TD-SCDMA and EDGE.
The downside of TD-LTE is apparently shorter range compared to the equivalent FD-LTE. Why is that the case? It's not clear to me.
Maybe someone out there could clue me in. At any rate, small, inexpensive TD-LTE relay nodes should fill in the gaps. There will be lots of those at 2.6 GHz.
Related Dailywireless articles include; Spectrum Drama Unfolding, Clearwire Chooses LTE Advanced, Will Sprint Go TD-LTE?, WiMAX to TD-LTE: Everybody's Doin' It, Speculation on Sprint Infrastructure, LG Telecom: CDMA & LTE Handover, LTE Spectrum: It's War, German 4G Auction: It's Done, Auctions Winding Down in Germany & India, Germany 4G Auctions Begin, Europe to Follow, EU: Global LTE Roaming at 1.8 GHz, T-Mobile Makes Its (4G) Move, End Near for Indian WiMAX?, WiMAX & LTE: Policy Vs Pragmatism, Intel: LTE Not Nail in Coffin, India's Broadband Auction: It's Done, India's Broadband Auction: No Free Lunch, TD-LTE Gains Momentum, WiMAX Forum: Not Dead Yet, Yota Dumps WiMAX, UK Getting LTE, WiMAX to TD-LTE: Everybody's Doin' It, Speculation on Sprint Infrastructure, LG Telecom: CDMA & LTE Handover, Australia: WiMAX to TD-LTE, WiMAX to TD-LTE: Everybody's Doin' It, Speculation on Sprint Infrastructure, LG Telecom: CDMA & LTE Handover, Australia: WiMAX to TD-LTE, LTE-Advanced Progress, Ericsson Demos 1 Gbps Advanced LTE , Sprint's LTE Advantage, LTE-Advanced Tested in Korea, ITU: The "Official" 4G Standard Approved, WiMAX at 330 Mbps, Towards a REAL "4G" Standard, Unified "4G" Standard Proposed, WiMAX 2 Collaboration Initiative, IEEE Submits 802.16m to ITU for 4G, LTE-Advanced Submitted to ITU, MIMO: The Paper War, CTIA 2010, LTE-TDD & WiMAX: Two Peas in a Pod?, Blowback on 2.6 GHz, Towards a REAL "4G" Standard, and Unified "4G" Standard Proposed