Today China Mobile and Clearwire announced a collaboration to accelerate the development of TD-LTE devices. China Mobile, the world's largest mobile operator, and USA-based Clearwire both support the global 2.5 GHz spectrum band for TD-LTE. Both companies have conducted successful TD-LTE trials and plan to launch commercial TD-LTE networks soon. Saudi-based Mobily launched their commercial TD-LTE service this week.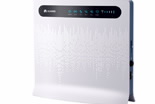 Huawei says its B593 LTE TDD wireless broadband router will be available through Mobily, in Saudi Arabia, next month. The Huawei B593 features a download speed of up to 100M, enabling operators to expand their subscriber base without the need for fixed network infrastructure.
Clearwire and China Mobile were both founder members of the Global TD-LTE initiative, a group intended to drive support for the standard as well as harmonising the technology with FDD-LTE. Clearwire's newly announced TD-LTE network is similar to the networks in Saudi Arbia, China, India and Australia. Sprint has not officially announced their support for TD-LTE. Sprint makes its big infrastructure announcement on October 7.
Sprint blocked both Huawei and ZTE from their huge network modernization project because of mounting national security concerns, according to the Wall Street Journal.
Sprint could announce their own dedicated 20 MHz chunk of 2.6 GHz spectrum for TD-LTE. That might be combined with the 30 MHz chunk from Clearwire, but it would also allow them independence from Clear. They could also announce a wholesale spectrum deal or virtual operator deals with other companies. Cable could support strand-mounted LTE-Advanced femto cells.
The iPhone 5 announcement is also rumored for October 7th. Coincidence? Perhaps not.
Apple and Sprint have completed work on an iPad that is compatible with Sprint's wireless network, reports 9to5mac. A Sprint version of the iPad is rumored to be completely separate from the Verizon model. That could imply the Sprint iPad would run on either Sprint's 3G or 4G WiMax network.
Perhaps a Sprint-based iPhone or iPad would incorporate a Sequans WiMAX/TD-LTE chipset. It would use WiMAX at first. A later model, due next year, might use a Sequans chipset that does everything — TD/FD-LTE & WiMAX in the 800/1.9/2.3/2.6 GHz band.
Sequans Communications has entered into an exclusive licensing agreement with NetComm Limited to supply TD-LTE chips in the LTE network being built by NetComm for Australia's National Broadband Network. Marvell says its PXA1801 combines support for FDD-LTE, TDD-LTE, HSPA+, TD-SCDMA and EDGE to deliver the highest data available in any given geography.
Apple's "4G world-phone" might combine Apple's A5 processor with Sequans' 4G chips, although that's just speculation. All may be revealed on October 7th.