Facebook fired a major blow against social networking rival Google+ today, announcing the integration of streaming music and video. Facebook CEO Mark Zuckerberg explained that where you would normally "like" something your friend is watching or listening to, you can now just turn on the same stream and begin watching or listening to the song or video yourself. The new Facebook app from Spotify automatically tells your friends what songs you're listening to.
Facebook also rolled out another major new feature; Timeline, at Facebook's F8 Developers Conference today. Timeline, a visual layout option for Facebook that highlights posts from your past. Essentially it compiles a chronological history of everything you have shared on Facebook and automatically adds photos, statuses and life events. Dan Lyons sums up Timeline in his own, inimitable style.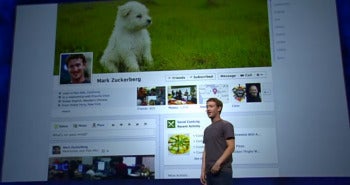 Techcrunch explains how to do enable Timeline on Facebook. As you scroll down past your custom-made cover, you'll see your posts, photos and life events as they happened in time. You choose what's featured on your timeline. You can star your favorites to double their size or hide things altogether.
Timeline is more detailed and visual than your old profile. The first thing you'll notice is the giant photo right at the top. This is your cover, and it's completely up to you which of your photos you put here.
Timeline is scheduled to roll out on September 30. The official way to get Timeline is to go to facebook.com/about/timeline and click on the green Sign Me Up button. You won't get it right away, but you will presumably be put on a list of people who will get it sooner rather than later.
The longer you've been using Facebook, the longer and more detailed your Timeline will be. If important parts of your story aren't included on your timeline, you can go back to when they happened and add them.