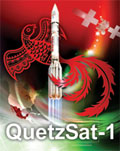 QuetzSat-1, a 20-kilowatt all Ku-band communications satellite, was launched yesterday from the Baikonur Space Center in Kazakhstan by International Launch Services. The huge broadcast television satellite will provide high power Direct-To-Home (DTH) services to Mexico, North America, and Central America for EchoStar (Dish).
The satellite, built by Space Systems/Loral, deployed its solar arrays early this morning. It is now performing maneuvers in space, getting ready for commercial service in a few months. Tomorrow, it will begin the first of several thruster firings to maneuver into geosynchronous orbit. The satellite was bought by SES, which has a fleet of 49 geostationary satellites.
Martin Halliwell, Chief Technology Officer of SES, said, "We expect this satellite to provide top quality, reliable DTH services for our customer EchoStar."
QuetzSat-1 is SS/L's sixth 20-kilowatt satellite to be placed into orbit. It is based on the 1300 space-proven platform, which has a long history of reliability. With this launch, there are 65 SS/L-built 1300 satellites currently on orbit.
Next up: the high throughput broadband internet satellite built for ViaSat (above). ViaSat-1 is scheduled for launch in mid October.
ViaSat-1 is expected to provide satellite internet access at 10 Mbps to approximately 1.5 million subscribers in North America. The all Ka-band satellite uses multiple spot beams and frequency reuse to maximize capacity in North America. ViaSat-1 arrived last week at the Baikonur, where it will be launched by ILS.
ViaSat-1 will be much faster than anything previously offered in the satellite industry. With 140 Gbps total throughput capacity, it is expected to transform the quality of satellite broadband. The $400 million satellite is scheduled to blast off from a launch site in Kazakhstan next month.
WildBlue Communications is ViaSat's two-way satellite Internet service provider subdivision, serving over 400,000 subscribers within the 48 contiguous United States. The new ViaSat-1 will feature 72 spot beams, with 63 in the U.S. and nine in Canada. U.S. coverage is generally along the West Coast and east of the Texas panhandle.
Unlike Lightsquared, which uses the 1.6 GHz Mobile Satellite Spectrum, ViaSat-1 is not designed for mobile satellite phones. Instead ViaSat-1 uses the much higher frequency Ka band (20/30 GHz). Small dishes provide the two-way 10 Mbps connection to the spot-beam satellite.
Currently Hughes uses the Spaceway-3 satellite for internet access. It competes with ViaSat's WildBlue satellite. HughesNet, which is what EchoStar is buying, was formerly known as DirecWay. News Corp spun off the two-way satellite business when it bought DirecTV. The HughesNet JUPITER satellite is the mirror image of ViaSat-1, and due to launch in the first half of 2012.
Both ViaSat-1 and HughesNet's Jupiter are expected to provide satellite internet access up to 10 Mbps in the United States by the summer of 2012.
Related DailyWireless Space and Satellite News includes; Lightsquared: A Hardware Solution, EchoStar Closes $2B Hughes Deal, EchoStar to Buy Hughes, Charlie's Big Play , FCC Green Lights Lightsquared, LightSquared: In Trouble?, Lightsquared Unfurled, MetroPCS Eyes TerreStar, SkyTerra 1 Launched, Broadband Satellites: Black Hole?, MSS: Stuck in Space, Satellite with 328 ft Antenna to Launch, LightSquared Announces LTE Network, FCC Okays Terrestrial LTE for SkyTerra, TerreStar Successfully Launched, AT&T/TerreStar Ready Satphone Service, TerreStar Phones Home, TerreStar's 60 Ft Antenna Deployed in Space, TerreStar Successfully Launched , Eutelsat Launches Ka Band Internet Satellite, O3B: Funded for Launch, Satphones Maneuver, WildBlue: $30M, Shovel-ready,