Huawei has announced a trial of TD-LTE gear to operate in white-spaces spectrum, reports Fierce Wireless. The Huawei TV White Space trial — based on LTE TDD — is said to offer a combination of management capability and variety of deployment scenarios.
"We are excited to undertake the second phase of the trial next year," said Tan Zhu, director of Huawei's wireless strategy.
Huawei's trial platform is called TVWS (TV White Space) LTE TDD and it is now embarking on field tests, particularly with an eye to interference problems with incumbent broadcasters or wireless microphone users. The trial is scheduled to be completed in mid-2012.
According to Huawei, the LTE TDD system can take full advantage of TVWS bandwidth and enhance spectrum efficiency by offering a combination of strong operation and management capability and variety of deployment scenarios.
Other White Space pioneers like the UK's Neul are focusing on low speed applications, such as machine-to-machine communications.
The FCC voted 5-0 last September to approve rules for white-space devices–officially kick starting the market. Ofcom, the U.K. regulator, recently approved the use of white-space devices, too. Ofcom predicts white space technology will come to market by 2013.
Since white-space is located in the unused 6 MHz sections of broadcast TV spectrum, databases are required to enable devices to dynamically locate vacant spectrum. Using geolocation, the databases would determine where and when to allow operation. The FCC has approved 10 different database providers.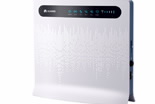 Huawei announced the commercial availability of the world's first LTE TDD wireless broadband router, the Huawei B593, through Saudi Arabian operator Mobily in October this year, in conjunction with their large-scale LTE TDD network, the world's first commercial LTE TDD system. The Huawei B593 supports LTE TDD and FDD, features a download speed of up to 100M and provides access to up to 32 WiFi devices as well as desktop computers through an Ethernet cable.
Huawei is also showcasing public sector solutions at ITU Telecom World in Geneva from Oct 24 to Oct 27. Since 2009, Huawei has been contracted to build several national broadband networks, having been awarded eight out of nine global projects for BT (United Kingdom), Nucleus Connect (Singapore), TM (Malaysia), Qtel (Qatar), Camtel (Cameroon), TelBru (Brunei), and CMC (Benin).
The FCC has started a 45-day trial on Sept. 19 (pdf) with the first of nine databases that will allow new devices using the white spaces to operate without interfering with existing broadcasters." The trial started on September 19, 2011 and ends on November 2, 2011.
The FCC requires that unlicensed White Space devices contact an authorized database system to obtain a list of channels that are available at each location. The first trial will use the Spectrum Bridge database.
In the United States, unused "white space" television frequencies are primarily in the UHF band. The White Spaces Coalition consists of eight large technology companies that includes Microsoft, Google, Dell, HP, Intel, Philips, Earthlink, and Samsung. Various proposals, including IEEE 802.11af, IEEE 802.22 and those from the White Spaces Coalition, have advocated different standards for the United States.
This year, operators are spending $3 billion to install LTE base stations and related equipment, according to ABI Research. By 2016, they forecast annual LTE spending will be $16.5 billion.
Yankee Group forecasts the combined total of LTE and WiMAX mobile lines will reach 675 million by 2015, up from just 31 million at the end of 2011.
Related Dailywireless articles include; White Space Trialed, NTIA "Finds" 1.5 GHz of Federal Spectrum, UK Delays 4G Auction Ofcom: White Spaces by 2013, UK Gets Free Public WiFi, Europe's Digital Divide Auction, LTE Spectrum: It's War, Vendors & Spectrum Fund Clearwire TD-LTE, World's First TD-LTE Service Launched by Mobily, Clearwire Chooses LTE Advanced, Will Sprint Go TD-LTE?, WiMAX to TD-LTE: Everybody's Doin' It, Speculation on Sprint Infrastructure, LG Telecom: CDMA & LTE Handover, LTE Spectrum: It's War, German 4G Auction: It's Done, Auctions Winding Down in Germany & India, EU: Global LTE Roaming at 1.8 GHz, End Near for Indian WiMAX?, WiMAX & LTE: Policy Vs Pragmatism, Intel: LTE Not Nail in Coffin, India's Broadband Auction: It's Done, TD-LTE Gains Momentum, WiMAX Forum: Not Dead Yet, Yota Dumps WiMAX,