Engadget says that Barnes and Noble will announce a new Nook Tablet on November 16th for $250. It appear similar to the current Nook Color but will feature a dual-core processor with more memory. It's designed for streaming video.
The new B&N Tablet will have 16GB of built-in storage, twice as much as the $199 Kindle Fire and use a similar Texas Instruments dual core dual-core OMAP4 processor. The $249 Nook Tablet will support more file formats than the Kindle, including ePUB, PDF, XLS, DOC, PPT, TXT, DOCM, Flash, JPG, MP3, MP4 and AAC. Neither will be able to access the Android Market.
It will reportedly have a 7-inch VividView IPS color touchpanel with a 1024 x 600 screen resolution (that's 169 pixels per inch), a 1.2GHz dual-core OMAP4 processor, 1GB of RAM, dimensions of 8.1- x 5- x 0.48-inches.
It also features a microSD expansion slot, with eight hours of battery life with WiFi switched off (four hours with videos playing back), along with 802.11b/g/n WiFi.
In other news, Amazon is launching a digital-book lending library that will be available only to owners of its Kindle and Kindle Fire devices who are also subscribers to its Amazon Prime program.
Amazon will initially will offer slightly more than 5,000 titles in the library, including more than 100 current and former national bestsellers, although none of the six largest publishers in the U.S. is participating. Several publishing executives said recently they were concerned that a digital-lending program would harm future sales.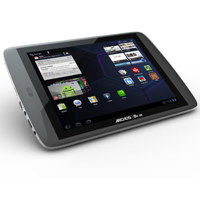 Other new tablets under $300 include the Archos G-9, an 8 inch tablet with a Dual-Core A9 OMAP 4 at 1GHz, 8GB flash storage, Android 3.2, a MicroSD Slot, HDMI Output, GPS, WiFi (802.11 b/g/n) & USB 2.0 and 720p Front Facing Camera.
The 8″ Archos tablets costs between $250 – $280 but includes access to Android Market, with over 250,000 applications, including Google Talk with video chat, Gmail, YouTube, Google Maps and Navigation.
The $250 Lenovo IdeaPad A1 ($200 on Amazon), has a 1 GHz TI OMAP 3622 processor, 512MB of RAM, and runs Google Android 2.3 Gingerbread. It features a 7 inch, 1024 x 600 pixel display, a front-facing VGA camera and a rear 3MP camera.
The 7″ tablet has Bluetooth, GPS and WiFi, and the model that's currently available for order has 16GB of storage and a microSD card slot for expansion. The $200 IdeaPad A1 also has access to the Google Android Market, unlike Amazon's Fire.
Dual-Core TI chips are included in the Ice Cream Sandwich rollout, getting optimized for the OMAP 4 platform, especially the upcoming OMAP 4470, which puts it in competition with Qualcomm's Snapdragon S4 and the quad-core NVIDIA's Kal-El.
The EeePC Transformer Prime will launch November 9th. No word yet on pricing or whether it will sport the new Android ICE. Here are some of the first tablets to get Android 4.0 and 15 tablets that will soon be released, along with the official statements from each device maker regarding support for ICE.
Tablets are revolutionary. Touch-screens are the future.
But cheap 4G is The Fabric of the Cosmos.