Barnes & Noble today expanded its NOOK devices with the introduction of the $249 NOOK Tablet, with access to movies, TV shows, music and entertainment services, including Netflix, Hulu Plus, Pandora and others, plus a collection of high-quality apps.
NOOK Tablet is now available for pre-order at www.nook.com and will be in stores on or about November 17.
Barnes & Noble also announced a new lower prices for the original NOOK Color ($199) matching the price of Amazon's Kindle Fire, which will be available on Amazon on November 15, and dropped the price of its Simple Touch e-ink reader, an E Ink device, from $139 to $99, matching the price of Amazon's ad-supported Kindle Touch With Special Offers (due to ship on November 21).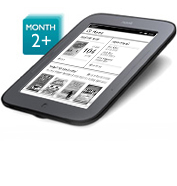 The original NOOK Color will be enhanced next month, with more than 100 feature enhancements, access to top video and music services, popular apps, comics and more. The new and improved NOOK Simple Touch features the world's fastest page turns and longest battery life for $99 – with no annoying ads.
"In NOOK Tablet, we've seamlessly integrated today's top entertainment services like Netflix, Hulu Plus and Pandora in a product that's powerful, easy-to-use, under a pound, and a tremendous value at only $249," said William Lynch, Chief Executive Officer of Barnes & Noble. "We're also excited to announce that we've lowered the price of our award-winning and recently improved NOOK Simple Touch to just $99, ad-free. Lastly, our incredibly popular NOOK Color has a new low price of only $199, giving customers the ability to enjoy its unparalleled reading experience, apps, Web and e-mail."
The NOOK Tablet features a new 1GHz TI OMAP4 (dual-core) processor with 1GB RAM, to stream HD videos smoothly. Barnes & Noble says it provides 11.5 hours of reading time or nine hours of video viewing. It has 16 GB of built-in memory (up to 10,000 books), and you can add up to 32GB with a microSD card.
NOOK Simple Touch, now just $99, features lightning-fast page turns – which B&N claims is 25 percent faster than any other E Ink product. NOOK Simple Touch has an ergonomic, contoured design with a soft-touch back that makes it easy and comfortable to read, even with just one hand. On a single charge, customers can now read for up to 2 months for one hour a day. Existing NOOK Simple Touch customers can also enjoy these new benefits through a free v1.1 software update available today for immediate download at www.nook.com/update.
Additionally, Barnes & Noble is expanding its integrated app store, redesigned the interface for both e-book and app shopping, and is continuing to expand and refine its Nook Newsstand (magazines and newspapers) with digital subscriptions to over 250 publications, including 100 leading magazines.
Some aspects of the Nook Tablet and Kindle Fire stack up pretty evenly. Both have 7-inch color LCD screens, 1GHz dual-core Texas Instruments CPUs, run custom versions of Android, offer Wi-Fi connectivity to the Web and their respective e-book and app stores, run Adobe Flash, and claim about 8 hours of battery life (with wireless switched off).
Neither the Kindle Fire nor the Nook Tablet offers cameras, Bluetooth, or 3G wireless options–all of which can be found on the more expensive (and larger) Apple iPad 2. Neither can access the Android Marketplace directly.
Other competitors include the $250 Lenovo IdeaPad A1 ($200 on Amazon), which has a 1 GHz TI OMAP 3622 processor, 512MB of RAM, and runs Google Android 2.3 Gingerbread. It features a 7 inch, 1024 x 600 pixel display, a front-facing VGA camera and a rear 3MP camera.
The Lenovo 7″ tablet has Bluetooth, GPS and WiFi, with 16GB of storage and a microSD card slot. The $200 IdeaPad A1 also has access to the Google Android Market, unlike Amazon's Fire or the Nook Tablet.
Kindle Format 8, which supports many of the tags and properties in HTML5 and CSS3, will be used to render e-books on the new Kindle Fire tablet. Other Kindle devices will then be updated to support the new format as well. The Kindle Cloud Reader, which allows browsers to read Amazon's e-books online, now supports the Firefox browser. Support for the biggest browser of them all, Internet Explorer, is not yet available.