AT&T announced last week that it has withdrawn its merger application at the FCC in order to focus its efforts on obtaining antitrust approval for the deal. AT&T also announced it will take a pretax accounting charge of $4 billion ($3 billion in cash and $1 billion in spectrum) in the fourth quarter "to reflect the potential break-up fees due Deutsche Telekom in the event the transaction does not receive regulatory approval."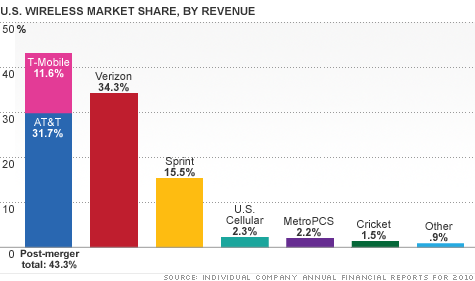 The application withdrawal appears in part to prevent the F.C.C. from making public AT&T and T-Mobile records about the potential effects of the merger, reports the NY Times. Those records that could then be used by the Justice Department in the antitrust trial.
The companies have maintained publicly that the deal would not lessen competition and that it would create jobs in the United States. But the Justice Department has said that the merger would severely restrict competition, and F.C.C. officials have said that AT&T's confidential filings indicate the merger would eliminate jobs.
Mashable has 5 Reasons the AT&T, T-Mobile Merger Is as Good as Dead
Too Big
Not in the Public Interest
No Benefit
4G Won't Grow
It Could Kill Competition
Tim Farrar says that the FCC's approval of the Qualcomm 700 MHz spectrum purchase puts the focus squarely on DISH's 700MHz E block holdings, which would bring the Qualcomm spectrum up to a national 12MHz unpaired block. The FCC said they will impose certain (unspecified) conditions on AT&T in exchange for the right to acquire the Qualcomm spectrum.
AT&T needs a separate clean block of paired spectrum to implement its planned Carrier Aggregation Technology. The original intention was to use AT&T's AWS-1 spectrum holdings for this purpose, but AT&T would be required to give up the majority of its AWS-1 holdings (1.5B MHz POPs out of ~2.5B MHz POPs) as part of the break fee for the TMO merger agreement. As a result, AT&T will also now have to look for another clean block of spectrum away from the 700MHz band to enable deployment of the Qualcomm spectrum.
Cable is the logical place for AT&T to go.
AT&T needs cable's near nation-wide AWS spectrum, purchased but unused by their holding company, SpectrumCo. If the T-Mobile merger IS toast, then a cable's AWS, combined with "700 MHz carrier aggregation" could be plan "B".
AT&T might get competition from T-Mobile. T-Mobile has a nationwide AWS network. AT&T doesn't. T-Mobile could merge with SpectrumCo in a heartbeat. AT&T, a cable competitor, first has to build a nationwide AWS network. They got nothin', today.
Bloomberg reported last week that AT&T is preparing a settlement offer to divest 40 percent of T-Mobile's assets. But don't expect a wireless mega-merger next year or in the foreseeable future, analysts say.
Related DailyWireless Space and Satellite News includes; Dish Talks Up Terrestrial LTE, ViaSat-1 Launched, Charlie Ergen's Spectacular Triple Play, Charlie's Big Play, EchoStar Closes $2B Hughes Deal, Lightsquared: FCC Will Rule by Year End, Lightsquared: A Hardware Solution, Lightsquared Interference: No Immediate Fix?, LightSquared: GPS Interference Found, Lightsquared: Plan B from Outer Space?, Harbinger: 59MHz or What?. Time Warner Cable + Lightstream?, Lightsquared Signs Cricket Wireless, Another Rumor: Lightsquared + Sprint?, Lightsquared + Sprint?, Charlie's Big Play, LTE Spectrum: It's War, Lightsquared: What GPS Interference?, Harbinger Sells Inmarsat Shares, FCC Green Lights Lightsquared, T-Mobile: No Spectrum Deal…Yet, LightSquared: In Trouble?, Lightsquared Unfurled, MetroPCS Eyes TerreStar, SkyTerra 1 Launched, ICO Deploys 40 Foot Antenna, ICO G-1 In Space, ICO Wants Its Mobile TV – via DVB-SH, Broadband Satellites: Black Hole?, MSS: Stuck in Space, Satellite with 328 ft Antenna to Launch, Broadband Satellites: Black Hole?, LightSquared: Phase 1, LightSquared: 5K Basestations by 2011, LightSquared Announces LTE Network, FCC Okays Terrestrial LTE for SkyTerra, TerreStar Successfully Launched, AT&T/TerreStar Ready Satphone Service, TerreStar Phones Home, Godzilla SatPhones WiMAXed