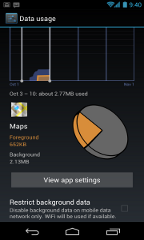 LG has announced its Ice Cream Sandwich software upgrade schedule for existing LG Android smartphones.
The news on LG's Facebook page shows that Optimus phones like the Optimus LTE and Optimus Black (known in the US as AT&T's Nitro HD and Sprint's LG Marquee, respectively) will begin in the second quarter of the year for the LG Optimus LTE, Prada phone by LG 3.0, Optimus 2X, Optimus Sol, my Touch Q, and the Eclipse.
The third quarter will see Ice Cream Sandwich land on the LG Optimus 3D, Optimus Black, Optimus Big, Optimus Q2, and the Optimus EX. The exact start dates can vary by market, as each country can have different requirements, depending on the carrier and the smartphone model.