Lenovo, which is making a concerted global push into tablets and ultrabooks, now expects to launch a smartphone in U.S. market, reports Reuters.
The first Intel Smartphone will be the Lenovo K800 for China.
The phone will use Intel's 32-nanometer Atom processor, known as Medfield. It has a 4.5-inch screen and is less than 0.4 inch thick. It can play 1080p video through an HDMI port to a external HDTV and is equipped with near-field communication (NFC) for mobile payments.
The No. 2 computer maker sells smartphones on its home turf in China but has yet to make inroads abroad.
The company, which has carved out a 7 percent share of the U.S. computer market, said it is in the process of establishing relationships with wireless carriers – AT&T, Sprint and Verizon.
Meanwhile, Intel and Motorola Mobility announced that the two companies were entering into a multi-year, multi-device strategic relationship that includes smartphones using Intel Atom processors running Google's Android software. The collaboration, which also covers tablets, will combine Intel's processor technology with Motorola's devices.
"Our long-term relationship with Motorola Mobility will help accelerate Intel® architecture into new mobile market segments," said Intel President and CEO Paul Otellini.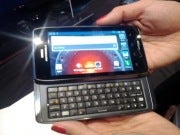 At CES, Verizon and Motorola announced an expansion of the DROID RAZR family. In coming weeks, customers will see the The Droid 4 and the DROID RAZR MAXX. Both phones feature dual-core processors, 8-megapixel cameras, slide out keyboards, and both can connect to Verizon's LTE network.
The Droid 4 is the follow-up to the Droid 3, which launched on Verizon last July. It has a 4-inch display, a full slide-out QWERTY keyboard and runs Android 2.3 (Gingerbread), with an upgrade to Android 4.0 in the first half of 2012.
The Droid RAZR MAXX, also has a slideout keyboard, and is similar to the original Droid RAZR, but almost doubles the battery capacity from 1700mAh to 3300mAh.
Sanjay Jha, the chief executive officer of Motorola Mobility, said Tuesday that the company plans to start reducing the number of mobile phones it tries to launch each year, as part of an effort to focus both development and marketing dollars on more innovative devices. Motorola, which is in the process of being acquired by Google, recently pre-announced lower-than-expected device sales for the fourth quarter, and Jha said part of what hurt performance was the high price point of the new Razr 3 smartphone, which hit the market with a $299 price tag.
Samsung says it is confident it will become the world's largest cellphone maker in 2012, ending Nokia's 14-year reign on the mobile handset market, its chief executive said.
Samsung became the world's No 1 smartphone maker in the third quarter of 2011. Samsung's OLED Galaxy phones have been huge sellers, while the latest models from HTC, Nokia and RIM struggle to interest consumers.