The 2012 World Radiocommunication Conference, which determines international treaties governing the use of radio spectrum world-wide, is meeting this month in Geneva. The international conference is held every three to five years and is organized by the International Telecommunications Union.
WRC-12 begins in Geneva, Switzerland, January 23, 2012. Some 160 of the 190 ITU member states will be present at next week's gathering, which will run though 17, February. Preparations for WRC-12 have been going on since the last WRC conference, WRC-07, held in 2007.
WRC-07 identified globally harmonized spectrum for Mobile. Additional spectrum was allocated for 3G and 4G systems in various new bands, resulting in 392 MHz of new spectrum in total in Europe and 428 MHz in the Americas.
In preparation, the FCC and NTIA helped formulate WRC-12 policy for the United States. The US submitted their proposals to CITEL, the Region 2 organization that includes North and South America, and received a high degree of harmony. Policy Tracker tracks spectrum policy internationally.
The International Telecommunication Union (ITU) divides the world into three ITU regions (Google Map). Each region has its own set of frequency allocations.
Region 1 comprises Europe, Africa, the Middle East west of the Persian Gulf including Iraq, the former Soviet Union and Mongolia.
Region 2 covers the Americas, Greenland and some of the eastern Pacific Islands.
Region 3 contains most of non-former-Soviet-Union Asia, east of and including Iran, and most of Oceania.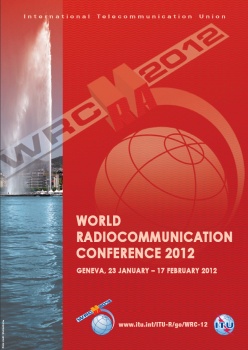 Today, U.S. Ambassador Decker Anstrom, Head of the U.S. Delegation to WRC-12, and Deputy Assistant Secretary of State Philip Verveer, gave an on-the-record preview WRC 2012.
According to Assistant Secretary Verveer, WRC is "a conference of enormous economic significance". The U.S. delegation will consist of some 144 members, from both public and private sectors, along with senior officials.
"We are well prepared and well positioned for the opening in 11 days", said Secretary Verveer. The U.S. delegation has some 33 agenda items and the U.S. position has been strengthened by a good degree of consensus at Regional Conferences, such as CITEL, the Inter-American Telecommunication Commission that represents South American interests, said Ambassador Anstrom.
According to Secretary Verveer and Ambassador Anstrom, there are five priority items for the United States:
More Spectrum for Mobile Broadband. It's an "essential infrastructure", and the United States is striving for "global harmonization" with "maximum flexibility".
Frequencies for Unmanned Aircraft Systems. According to the delegation there is a growing civilian market for "command and control" applications. The FAA is leading the US delegation on that.
Maritime Issues. The transition from analog radio to digital is still going on in the maritime industry and is addressed in sections 1.9 and 1.10.
Space Science. In the post-shuttle environment, frequencies for manned and robotic missions are required.
International Satellite Systems. Some 20 specific issues will be addressed at the ITU meetup.
International and Regional preparations, CITEL coordination and FCC proposals have been reviewed and discussed with dozens of agencies. Here are NTIA's WRC-12 Documents. PolicyTracker tracks international spectrum policy.
ITU is the global focal point for governments and the private sector. The United Nations agency spans 3 core sectors: radiocommunication, standardization and development. The Radiocommunication Assembly sessions are webcast through the ITU's Webcast Service in English, French, Spanish, Russian, Arabic and Chinese channels.
The ITU includes 191 Member Countries, 609 Sector Members and 141 Associates. After the big WRC-12 meeting, a Joint Task Group will get together and work on issues related to satellite, broadband, space and other matters, and prepare for the next World Radiocommunication Conference – WRC-15 – in 2015.
Related Dailywireless articles include; World Radio Conference Wrap (2007), WRC Wraps Up (2003), EU: Global LTE Roaming at 1.8 GHz , WiMAX: No Satellite Interference says WARC, WiMAX Now ITU Standard, Mobile Satellite on the Move