In 13 days, the New York Giants will take on the New England Patriots for Super Bowl XLVI (Super Bowl 46). It will be played in Indianapolis, on Feb 5, 2012.
The Super Bowl is the most watched event on U.S. television. Fox's broadcast of the 2011 Super Bowl was the most-watched U.S. broadcast of all time, with than 111 million U.S. viewers. The 2010 Superbowl drew almost that much.
In the United States, the game will be televised nationally by NBC and be streamed online, both to computers (via NBC.com) and to mobile devices, via Verizon Wireless's NFL Mobile app), the first legal online streaming of a Super Bowl telecast in the USA.
The network has live streamed the last two Olympics, and will stream the 2012 Summer Olympics from London as well. NBC said it has learned that online viewers generally don't cannibalize the live broadcast audience for major sporting events. The Associated Press reported that NBC typically gets about 200,000-300,000 online viewers, compared to more than 20 million that tune in for the telecast.
The live stream will use the same Microsoft Silverlight player that NBC uses for its Sunday Night Football streams. The online stream of the Super Bowl will have its own set of ads, which will differ from those shown on broadcast television.
NBC says a 30 second spot can command as much as $3.5 million, a new record for broadcast tv. Big live events like the Super Bowl are one of the few ways to prevent television viewers from skipping commercials with their DVRs.
Last year, by comparison, brought in between $2.8 and $3 million for a 30. Revenue from last year's commercials totaled $210 million.
This is the first 4G LTE Super Bowl. Josh Smith of GottaBeMobile goes behind the scenes at the Lucas Oil Stadium in Downtown Indianapolis, Indiana.
Rizzo Consulting was the main contractor, working closely with the Lucas Oil Stadium, Indiana Convention Center and the major carriers to design, install and commission the high capacity Distributed Antenna System for Lucas Oil Stadium and the Indiana Convention Center, the first-ever LTE design for the Big Game.
"The 2012 DAS project for the Big Game at Lucas Oil Stadium has been both fun and challenging. From last minute design changes creating accelerated installation schedules to engineering the latest multi-carrier technical specifications, our team successfully handled all of these challenges through communication, teamwork and dedication," said Joe Rizzo, Presidentand CEO of Rizzo Consulting.
Joe Rizzo told Dailywireless editor Sam Churchill, their indoor DAS system at Lucas Oil Stadium utilizes some 500 antennas and is shared by the three largest cellular carriers. Their team has been working on it since August. Rizzo Consulting specializes in large DAS systems engineering, designing and building major systems all over the United States. Rizzo has been doing this since 2001, and has grown steadily over the years.
When I asked Rizzo the secret to his business success, he didn't pause. "Quality", he said.
Verizon sent a team down to the Dallas Cowboy's stadium during Super Bowl 45 to understand all the logistics involved in supporting this many users. Based on these findings, and the team's experience with the Indy 500 and Kentucky Derby, Verizon put a plan in place, beginning work in February of 2011.
The average Colts game draws 70,000 people, but the Super Bowl is expected to bring in 85,000. Much of this increase will be in the form of high demand users such as press and team staff. The Super Bowl is expected to attract 150,000 people to Indiapolis.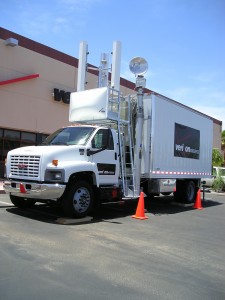 Verizon says they have spent some $69 million deploying a mixture of solutions throughout the Lucas Oil Stadium.
3 Cell on Wheels (COWs). Stand alone generator powered cell towers to handle the extremely high demand areas.
9 Antennas that are part of a Distributed Antenna System (DAS) outside the stadium to handle increased downtown traffic.
400 Antenna Internal DAS to handle 3G and 4G LTE voice and data inside the stadium.
600 Antenna WiFi system capable of handling 28,000 simultaneous connected users. Free for Super Bowl 46.
In addition to the 3 COWs (Cell on Wheels) and COLTs (Cell on Light Truck), the equipment includes 400 mobile antennas inside the stadium to carry voice and data, along with 600 WiFi stations to support a total of 28,000 simultaneous connections.
Atop poles all around the stadium, are 8 DAS antennas. Distributed Antenna Systems (DAS) connect by fiber to a communications hub so multiple operators may use the antennas. The technique is often used in sports stadiums and malls to break up a sector into multiple sub-sections.
AT&T installed ADC microcells for the 2010 Super Bowl XLIV in Miami using ADC's InterReach Fusion and FlexWave Prism. The DAS company is now owned by Tyco Electronics.
ADC's DAS networks have been integral in Verizon Wireless' LTE network rollouts in more than 100 locations, including major stadiums, urban core areas, and other locations such as Denver International Airport. Another DAS provider, MobileAccess, specializes in interiors.
ExteNet Systems designed a distributed telecommunications network at the Omni Severin Hotel in Downtown Indianapolis for use by multiple carriers.
AT&T has launched an AT&T Wi-Fi Hot Zone, the company's seventh major-market hotzone, serving parts of downtown Indianapolis. The new hotzone will provide Wi-Fi access near many popular locations along Capitol Avenue, Meridian and Pennsylvania Streets as well as East and West Georgia streets near the center of town. AT&T has also launched an expanded Distributed Antenna System at Lucas Oil Stadium, which is among the largest of its kind in the U.S., enabling 4G LTE coverage within the stadium and carrying more traffic than 10 cell sites. they are employing nine Cells on Wheels (COWs) to support Lucas Oil Stadium, the downtown area, practice facilities and other places where large crowds are expected.
Sprint Nextel will also drive in two COWs for the stadium, two at the Super Bowl village and one more at the University of Indianapolis (the NFC practice facility). Sprint says it has "added capacity to 21 CDMA sites and seven iDEN [push to talk] sites around downtown and surrounding area hotels, including a major capacity upgrade inside the stadium."
Additionally, Sprint says it has implemented 52 network capacity upgrades throughout the Indianapolis market in the past 90 days, with 46 additional enhancements planned before the big game.
Perhaps app stores and rich media e-books will change the game next year.
Imagine a live sports app designed for rich-media tablets. Buy your ticket and get your app – complete with embedded HDTV feed, live stats, social networking and a narrative with sidebars and profiles. You could customize the social interaction and archive the document. Let's see — $10 times 20 million…
Can we launch by the 2012 Olympics?