The world's first commercial White Spaces network launched Thursday in North Carolina. So far, the FCC has only approved one white spaces device — a 1.5-lb. rectangular-shaped radio from Florida-based KTS Wireless.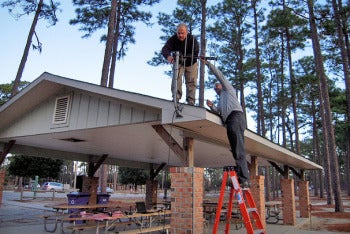 The KTS device, used in the Hanover NC network, is a small, last-mile, transmitter. It uses the company's frequency agile radio which received FCC approval Dec. 26, making it the first unlicensed transmitter allowed to operate in the TV band.
The WiFi Alliance says don't call it "Super Wi-Fi" – it only leads to consumer confusion since "there is no Wi-Fi technology that operates in this spectrum".
The white space device operates on all TV channels (174-216 MHz and 470-698 MHz), as well as in the unlicensed 900 MHz frequencies–at data rates from 1.5 to 3.1 MBps. The Hanover launch marks the inauguration of the AWSR, which will provide the Internet access in public parks in Hanover.
White Spaces are unused television channels. TV frequencies are lower, enabling signals to travel further, and penetrate foliage and walls better. It's slower than WiFi but has better range. The digital television conversion has freed up lots of channels because digital tv allows tv stations, for the first time, to use utilize adjacent channels in the same market without interference. The White space calulator from Spectrum Bridge and the Telcordia channel-availability calculator so available channels in your neighborhood.
Spectrum Bridge was the first company approved by the FCC to operate the associated spectrum database. It keeps track of all occupied and unoccupied TV frequencies. Devices automatically check the database to prevent interference with local TV signals. Peter Stanforth, Chief Technology Officer of Spectrum Bridge, says the first commercial white space devices could be available in one to two years.
The City of Wilmington is using white space radios to provide free Internet access in city parks, for traffic cams, and environmental monitoring. The technology transmits data from a water monitoring station to a firehouse more than a mile away, says Leslie Chaney, information technology director for New Hanover County.
Several white space licenses appear in the FCC list of experimental applications granted from 10/1/11 to 11/1/11 (pdf). They include the University of Wisconsin-Madison for TV channels 7-51 for testing fixed white space devices in Madison and two grants to Spectrum Bridge for 450-698 MHz for white space experiments (fixed and mobile) in Irving, Texas and Potomac Md. Google is also getting into white space testing, with license WF2XYY allowing use of 512-602 MHz and 620-698 MHz for testing white space devices, fixed and mobile, in Mountain View, CA.
Today's launch also marks the debut of a White-Fi chipset that could one day be used in handsets. InterDigital of King of Prussia, Pa., is collaborating with Spectrum Bridge on a "spectrum-harvesting" chipset, said to extend "legacy systems such as Wi-Fi and cellular into under-utilized frequency bands."
InterDigital is among the leading contributors to the standardization process for LTE and LTE-Advanced, and IEEE 802 groups, including 802.21 (seamless mobility).
The FCC started crafting rules to allow unlicensed devices in the TV band in 2007 and voted 5-0 in September to approve white-space devices and services. The final order went into effect in January of 2011. Wilmington was targeted for "White-Fi" tests in part because it was the first to complete the digital TV transition in 2008, freeing up spectrum for broadband.
Nine more companies, including Google and Microsoft, are being vetted by the FCC to manage white-space databases. Each will be required to conduct a 45-day trial with the FCC to ensure its database protects incumbent TV broadcasters. New Jersey-based Telcordia is believed to be the next hardware company to get FCC approval, likely within the next few months.
A new industry group called the WhiteSpace Alliance was formed in December to finalize technical standards for white spaces. The Whitespace Alliance backs the new IEEE 802.22 standard.
The IEEE 802.22-2011 is the first IEEE 802 Standard for operation in television whitespaces. It is also the first IEEE standard that focuses on broadband connectivity in rural areas where most vacant TV channels can be found. It delivers 22 Mbps to 29 Mbps, depending upon the country of deployment, without interfering with reception of existing TV broadcast stations.
Carlson unveiled its RuralConnect IP radio last year, and the CEO said he sees a market not only for rural broadband services but municipal and smart energy applications in smaller markets where white space spectrum is more plentiful.
The total spectrum potentially available in the television bands is over 200 MHz and the highest frequency is below 700 MHz. This makes it a good alternative for over-burdened 900 MHz and 2.4 GHz unlicensed bands.
The FCC hopes to utilize auction off the now freed up television spectrum, which could be worth an estimated $25 billion. It believes a portion of those frequencies should be available for unlicensed use. WiFi in the 2.4 and 5 GHz bands has had a huge impact on the world-wide economy, while thousands of enterprises and utilities also depend on unlicensed 900 MHz and 60 GHz radios.
The FCC Chairman gave a speech at CES earlier this month on the need for expanded spectrum offerings and then sat down to chat with the host of the event, CEA CEO Gary Shapiro.
Genachowski said the FCC's unlicensed spectrum use generates about $30 billion worth of economic value every year (Genachowski remarks).
Some legislators in Congress, such as Greg Walden (above) are trying to take power away from the FCC. They argue the FCC has too much control over spectrum auctions — and the money they generate. Conservative legislators want to maximize "incentive auction" revenue by auctioning off ALL the spectrum to large telecom companies. That would raise more revenue for deficit reduction but would eliminate "free" unlicensed use of the broadcast frequencies.
Chairman Genachowski argues that attempts to eliminate unlicensed spectrum would hurt, not help the economy. He says unlicensed "white spaces" could close the gap of the nearly 100 million Americans who do not have broadband at home today, and will keep the United States an innovative leader in broadband wireless technology.
"We shouldn't ignore history," said Genachowski.
Related Dailywireless articles include; Genachowski Lobbies for Unlicensed White Spaces, Microsoft Announced Narrow Channel Whitespace, FCC Authorizes White Space Service in Wilmington, White Space Legislation Goes Dark, White Space War, Bills to Kill Unlicensed White Space?, White Space Trial Completed, White Space Trialed, Huawei to Trial White Space TD-LTE, NTIA "Finds" 1.5 GHz of Federal Spectrum, UK Delays 4G Auction Ofcom: White Spaces by 2013, UK Gets Free Public WiFi, Europe's Digital Divide Auction,