iFixit has a teardown of the new iPad. They flew to a Telstra store in Melbourne, Australia to be first in line to get the iPad 3.
The chips on the LTE-enabled iPad include:
The A5X processor
Texas Instruments CD3240 driver device
Broadcom BCM4330 802.11a/b/g/n MAC/baseband/radio with integrated Bluetooth 4.0+HS and FM transceiver
Broadcom BCM5973 I/O controller
Broadcom BCM5974 microprocessor
2 x 4Gb Elpida LP DDR2 = 1 GB DRAM in separate packages in a 64-bit configuration
Fairchild FDMC 6683
Apple 338S0987 (Cirrus Logic audio codec)
Toshiba Y0A0000 Memory MCP
Triquint TQM7M5013 quad-band linear power amplifier module
Avago A5904
Skyworks SKY77468-17 front-end module
Qualcomm PM8028 Power Management IC
Qualcomm RTR8600 multi-band/mode RF transceiver for 3G and 4GLTE bands
Qualcomm MDM9600 – 3G and 4G wireless modem
Qualcomm's MDM9600 chipset supports the Verizon LTE network with full backward compatibility to EV-DO Rev. A/Rev. B.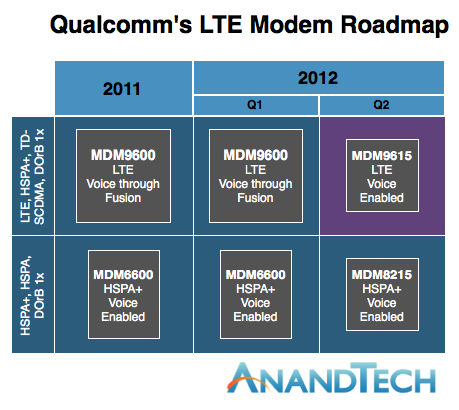 Apple could conceivably replace the iPad's MDM9600 LTE modem with the MDM9615 in an iPhone5 this fall. It uses an energy efficient 28nm process and enables both TD-SCDMA and TD-LTE on a variety of frequencies.
Reviews of the new iPad have been very positive, but The Verge confirmed FaceTime won't work on the 4G network.
PC Mag explains if you're looking for the cheapest possible monthly deal, AT&T has it, but you all you get is a scant 250MB for $14.99 per month – or a whopping $59.96 per 1GB. You'd be much better off doubling your investment and getting 12 times the amount of data with the 3GB plan for $30 per month. There's not much of a reason to go all-in on the 5GB plan (for $50 per month), since overage charges are $10 per 1GB on the 3GB plan
On Verizon $20 gets you 1GB of data per month, which should be good for checking email and very light Web browsing. Verizon loses to AT&T is with its 2GB plan, which costs $30. That same price gets you an additional GB of data on AT&T. Verizon also offers a 10GB plan for $80 per month, which works out to $8 per GB—the least expensive option available. Verizon includes a mobile hotspot at no extra cost, while AT&T doesn't offer that option. They both offer 5GB/month for $50.