The US and China have been discreetly engaging in "war games" amid rising anger in Washington over the scale and audacity of Beijing-co-ordinated cyber attacks on western governments and big business, the Guardian has learned.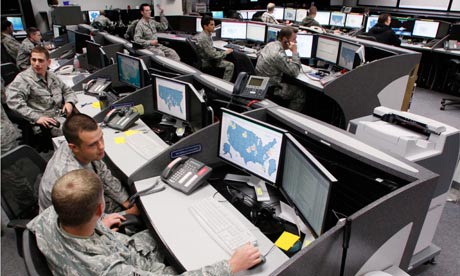 State department and Pentagon officials, along with their Chinese counterparts, were involved in two war games last year that were designed to help prevent a sudden military escalation between the sides if either felt they were being targeted. Another session is planned for May.

During the first exercise, both sides had to describe what they would do if they were attacked by a sophisticated computer virus, such as Stuxnet, which disabled centrifuges in Iran's nuclear programme. In the second, they had to describe their reaction if the attack was known to have been launched from the other side.

The state department refused to speak about the war games, or say which officials took part.
Sergey Brin says the internet is under attack by governments, Apple and Facebook.
In an interview with the Guardian, Brin warned there were "very powerful forces that have lined up against the open internet on all sides and around the world".
The threat to the freedom of the internet comes, he claims, from a combination of governments increasingly trying to control access and communication by their citizens, the entertainment industry's attempts to crack down on piracy, and the rise of "restrictive" walled gardens such as Facebook and Apple, which tightly control what software can be released on their platforms.
He said five years ago he did not believe China or any country could effectively restrict the internet for long, but now says he has been proven wrong. "I thought there was no way to put the genie back in the bottle, but now it seems in certain areas the genie has been put back in the bottle," he said.