The FCC on Thursday announced plans to set aside a chunk of spectrum for connecting wireless medical devices (pdf). The allocation of spectrum for so-called Medical Body Area Networks (MBANs) is part of the FCC's push to free up unused spectrum and will be up for a vote at the FCC's May 24 meeting.
It sets aside a band between 2360-2400 MHz, just below the WiFi band for medical devices. Use of the 2360-2390 MHz band will be subject to registration with an MBAN coordinator and additional coordination if warranted by location. Use of this 30 megahertz band will be restricted to indoor operation at health care facilities. The 2390-2400 MHz band will not require registration and coordination, and may be used in any location including in-home residential settings.
With wireless medical devices, doctors could monitor a patient's vital signs at home or in the hospital via low-cost wearable sensors that are attached to the patient's body and wirelessly connected to the machines that process and display the data for doctors. The IEEE 802.15 Task Group 6 (Body Area Network) developed a communication standard optimized for low power devices for operation on, in or around the human body.
The Philips Heartcycle, a sensor-embedded shirt measuring heart functions, was announced last year.
The medical devices lobby pushed the FCC to give it rights to 40 MHz of frequencies, just below the WiFi band. So far the FCC aims to set aside two spectrum bands. One band would only be valid for devices used in medical facilities. A second spectrum band could be used for remote monitoring of patients who are in their own homes.
Currently, sensors have to be attached directly to machines by wires, making it difficult for patients to leave their beds.
Anthony Jones, chief marketing officer for Philips Healthcare, said the wireless devices would reduce costs as patients may not have to stay in a hospital for so long to be monitored.
The emerging body area network (BAN) technology is gearing up to compete with Bluetooth Low Energy across a broad range of medical and consumer applications. Backers of the IEEE 802.15.6 effort say the standard could ship in 2012. The specification promises a range of implementations roughly on par with Bluetooth bandwidth and range but at much lower power consumption and less interference.
Samsung's mobile phone group has proposed one of three physical layers for the draft standard, targeting links between handsets. It uses an electric field similar to near-field communications to establish connections at 21 or 32 MHz that transmit from 164 Kbits/second to 1.3 Mbits/s of data up to three meters. A separate narrowband PHY for 802.15.6 proposed by the MedWin Alliance–which includes GE, Philips, TI and Toumaz—targets mainly medical apps running anywhere from 100 Kbits/s to 1 Mbit/s.
Sensors and other devices could be operated from a 1.2-V button cell, said Paul Paddan, head of low power radio at Toumaz. The FCC ruling could open the door for smart bandages.
The Toumaz Nano Sensor Protocol (NSP) is a wireless communication protocol and command interface optimised for ultra low power operation of wireless body area networks (BANs).
The FCC's Genachowski told reporters that a hospital patient monitored with such equipment would have a roughly 48 percent chance of surviving a cardiac arrest compared with a 6 percent chance for unmonitored patients.
As well as setting aside the spectrum, Genachowski said he would look into other ways that could make it easier for medical device makers to experiment with new types of wireless applications and bring such products to the market. Any devices would still need to gain approval from the U.S. Food and Drug Administration, the country's healthcare regulator. Genachowski said the FCC had worked with the FDA to make the current initiative possible.
Qualcomm announced a slew of new initiatives designed to help patients and caregivers connect wirelessly through mobile devices, and spur mHealth technology adoption.
Qualcomm announced the formation of a wholly owned subsidiary, Qualcomm Life (formally known as Qualcomm Wireless Health). It provides a cloud-based platform health providers.
"We believe the 2net Platform and the Hub's promotion of medical device connectivity will enable a sea change in health care, where we observe stressed medical systems burdened by a mounting prevalence of chronic disease," stated Don Jones, vice president of global strategy and market development for Qualcomm Life.
Dave Chase, CEO of Avado.com, a patient portal & relationship management company, thinks Oregon could take the lead in the healthcare market.
Intel's Eric Dishman spoke at the City Club of Portland recently about "Technological Innovation and the Future of Aging" (video).
Intel's Health Initiative utilizes technology to assist an aging population. Dishman was promoting a state-wide initiative to develop a hub of independent living technologies, much as the state has funded green energy and biotech. His vision is to move 50% of aging health care in Oregon out of institutions and into homes and the community in 10 years. Care Innovations, for example, is a joint venture between Intel and GE to produce disease management, independent living, and assistive technologies for the home.
The mHealth field has emerged as a sub-segment of eHealth, using computers, mobile phones, patient monitors, etc., for health services and information. According to the analyst firm Berg Insight, around 2.2 million patients worldwide were using a home monitoring service at the end of 2011. That figure does not include patients that use monitoring devices connected to a PC or mobile phone. The number of these devices using integrated cellular connectivity increased from 0.42 million in 2010 to about 0.57 million in 2011, and is projected to grow at a CAGR of 34.6 percent to 2.47 million in 2016.
The Tricorder X Prize is a $10 million prize to develop a mobile solution that can diagnose patients better than or equal to a panel of board certified physicians.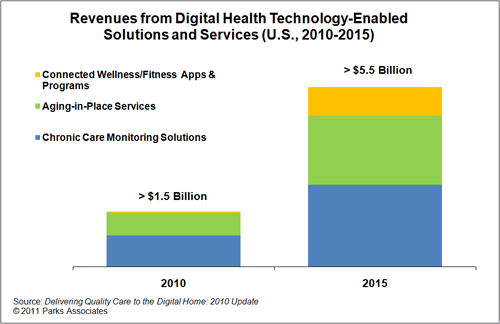 Juniper Research predicts by the year 2014, there will be a total of 2.7 million annual mobile health monitoring events globally, generating some $1.9 billion at the end of 2014.
Related Dailywireless articles include; Wireless Health Initiatives, Medical Devices Mobilize, Apps Enter the Twilight Zone, Mobile Health: Fast Growth , Open Source Tricorder and Mobile Health: Alive and Well