The Galaxy S III, Samsung's flagship smartphone for 2012, will be available to consumers today across 28 countries in Europe and the Middle East. It will be offered to 296 carriers in 145 countries by July, with June 20th the last rumored date for the US and Canada.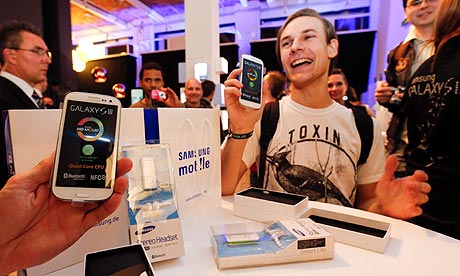 Reuters reports that customers lined up a day ahead of store openings in Berlin. European and Asian network operators are pitched the device heavily and are offering attractive pricing (varies by operator and country) for the device.
Its predecessor, the Galaxy SII, was a big hit worldwide, selling more than 20 million units. The Galaxy S III will go head-to-head on store shelves with the HTC One X and Galaxy Nexus, iPhone 4S (a 3G phone), the HTC One X and One S, the Nokia Lumia 900, and other top-tier phones, many with quad core processors and LTE.
Android Ice Cream Sandwich
4.8-inch 720p AMOLED screen with 1280×720 pixels (306 ppi)
Quad-core processor (1.4 GHz quad-core ARM Cortex-A9 and 1.5 GHz dual-core Qualcomm S-4)
Slot for microSD card
LTE
Reviews of the SIII from Engadget, The Verge, C/Net, Slash Gear and Phone Arena have been positive. You can preorder one from Amazon for $799.
Samsung's new music service, Music Hub, plans to take on virtually every music service currently available. Two variants of the service are available; a free one, which stores any purchased music in the cloud for easy playback, and a 9.99-per-month alternative that allows customers to upload their own songs for unlimited streaming. It will initially only be available on the Galaxy S III in Germany, Spain, Italy, France and the U.K., but will "soon" be offered on a wider selection of devices, Samsung said in a press release.