Ericsson says 85 percent of the world's population will be covered by 3G in 2017 with 50 percent will be covered by 4G in 2017.
According to Ericsson's second Traffic and Market Report (pdf), released today, 85 percent of the world's population will have internet coverage via 3G by 2017 and there will be close to nine billion mobile subscriptions, compared to six billion by the end of 2011. Machine-to-machine subscriptions will add to this figure.
Mobile broadband subscriptions, meanwhile, are forecast to reach five billion in 2017, compared to one billion by the end of 2011.
Other interesting findings:
Smartphone subscriptions expected to reach 3 billion in 2017.
Mobile subscriptions reached 6.2 billion in Q1 2012 and 170 million new mobile subscriptions were added during the quarter.
Global data traffic to grow 15 times by the end of 2017.
Today, around 75% of the HSPA networks worldwide have been upgraded to a peak speed of 7.2 Mbps or above and around 40% has been upgraded to 21 Mbps."
In the report, Ericsson also predicts that by 2017 half of the world's population will be covered by LTE/4G networks. Smartphone subscriptions will number around three billion in 2017 – compared to 700 million in 2011. Smartphones are also, and will remain, a key data traffic driver. The mobile data traffic will grow by 15 times between 2011 and 2017.
The data in the report also shows variations between countries and regions. In the case of mobile net additions, China added the most subscriptions for a single country in Q1 2012 with 39 million, followed by India with 25 million.
By the end of 2011, an average mobile PC generated approximately 2 GB per month versus 500 MB per month produced by HT smartphones. An average smartphone generates around half of the volume of an HT smartphone. By the end of 2017, it is estimated that a mobile PC will generate 8 GB per month, and a smartphone just above 1 GB. The Asia Pacific region added in total 93 million subscriptions, followed by Africa with 30 million.
Several major operators have started LTE deployments, but in terms of population coverage there is a long way to go. In February, LTE was estimated to cover 315 million people globally. In five years, it is expected that LTE will cover around 50 percent of the population.
Ericsson has performed measurements since the early days of mobile broadband from a large base of live networks covering all regions of the world.
The aim of this report is to share analysis based on these measurements, internal forecasts and other relevant studies to provide insights into the current traffic and market trends.
Ericsson has more information and the full report.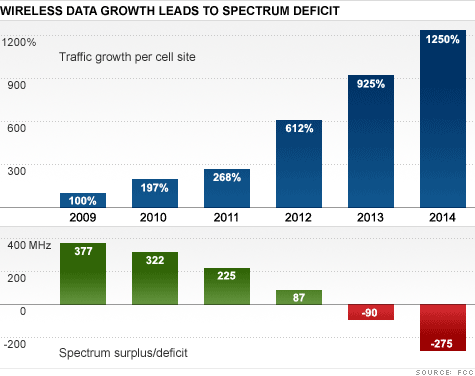 The FCC believes a spectrum crunch is just a few years away.