Microsoft is set to unveil a tablet next week that will mark its entry into rival Apple's territory with its own branded product, according to TheWrap.
The company has scheduled a secretive event for Monday at 3:30 p.m. June 18 in Los Angeles, where it will make a "major" announcement whose nature has not been disclosed. Even the venue has not yet been announced.
Rumors have surfaced that Microsoft's new tablet will run on Windows RT, a version of Windows 8 that uses an ARM microprocessor. Windows RT will officially only run software available through the Windows Store or included in the device. It isn't due until October, about the time Windows Phone 8 becomes available.
Mary Jo Foley in ZDNet speculates that maybe it's meant to to be more of a Fire killer than an iPad competitor. In other words, it's going to be a consumption-first device, not a creation one. What if that device is based on Windows Phone. And maybe even made for Microsoft by Nokia and private-labeled by Microsoft?


Yes, this is nothing but a bunch of "what ifs" at this point. But maybe a Microsoft Kindle Fire competitor is what we're talking about for a Monday reveal… and not a true iPad competitor (which is what the coming bunch of Windows RT tablets, the first of which are expected to launch in Q4 of this year, are supposed to be)….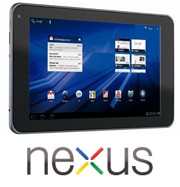 An Asus representative confirmed that Google will announce a Nexus-branded and Asus-built 7-inch tablet at the end of the month with a sub-$250 price tag.
According to the specs it will use a quad-core nVidia Tegra 3 processor, and come with the Android 4.1 ("Jelly Bean") operating system.
nVidia's KAI reference platform is a recipe that tablet makers can reference when they're designing and building low cost, quad-core Android tablets targeted at the $199 price point.