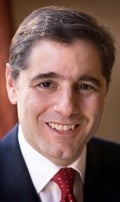 FCC Chairman Julius Genachowski has asked fellow commissioners to open an inquiry into whether cellphone-emissions standards need to be changed, although a spokesperson says it is merely a routine review of its own policies. This is the first time that cell phone radiation guidelines would have been looked at since 1996.
Whether cell phone radiation is truly harmful has been argued for almost as long as the cell phone has existed, but in recent years has become even more disputed. Last May, the World Health Organization said cell phones are "possibly carcinogenic", but cellular phone manufacturers say there is no serious health risk.
The CTIA sued San Francisco last year when the city tried to require warnings on cellphones about the risks of radiation. A federal court sided with CTIA, and blocked the warnings.
On Friday, FCC Chairman Julius Genachowski circulated a proposal for a formal inquiry into radiation standards for cellphones and other wireless gadgets. The proposal requires approval by a majority of the agency's other commissioners. If approved, the agency would also look into whether gadgets used by children should have higher emission standards.
FCC spokeswoman Tammy Sun said that the existing guidelines do not pose any harm or risk to cell phone users, adding that the United States "has the most conservative emissions standards in the world."
"Our action today is a routine review of our standards," Sun said in a statement.
To be considered safe, every cell phone model sold in the U.S. must adhere to standards set by the FCC and the Food and Drug Administration — an SAR that's less than 1.6 watts per kilogram taken over a volume containing a mass of 1 gram of tissue, even under the worst conditions.
The FCC does not set health policy, relying instead on input from the Food and Drug Administration, Department of Health and Human Services and other agencies.
"We hope and expect that other federal agencies and organizations with whom we work on this issue will participate in the process," Sun said.