Marvell and Wilocity today announced a new partnership to bring tri-band Wi-Fi solutions based on 802.11ad to market. Wilocity is said to be the leading developer of 60 GHz multi-gigabit wireless chipsets. It is expected to accelerate Marvell's deployment of WiGig-compliant wireless platforms for the next generation of WiFi devices that can exceed 1 Gbps using 60 GHz.
The WiGig Alliance was formed to establish a unified specification for 60 Gigahertz to enable easy-to-use, interoperable, multi-gigabit wireless products. It enables applications like wireless docking, high-speed synch and low latency wireless connections to displays. Members of the WiGig Alliance include Broadcom, nVidia, Qualcomm, Intel, AMD, Microsoft and others.
Marvell is a world leader in silicon solutions used by many WiFi devices. Wilocity is developing next-generation 60 GHz multi-gigabit wireless chipsets based on the WiGig specification.
The IEEE 802.11ac standard uses the existing 5 GHz Wi-Fi band. It uses wider (80 MHz or 160 MHz channels), along with improved modulation, and simultaneous multi-user MIMO for throughputs above 1 Gbps. The IEEE 802.11ad standard, which will follow 802.11ac, uses the unlicensed 60 GHz band.
Broadcom announced their enterprise 802.11ac Chips at CES this January. Broadcom said their "5G" WiFi system-on-chip is 3x faster and 6x more power efficient than previous generation 802.11n solutions. It's interoperable with legacy 802.11 technologies, and is designed to address growing demand for Gigabit speeds in enterprise. Netgear announced the industry's first 802.11AC WiFi router, the Netgear R6300, this May.
In-Stat says 82 million consumer-electronics devices allowed for connectivity to wireless-N networks last year. That figure is expected to jump to nearly 300 million in 2015. But 802.11n maxes out at 600Mbps – not fast enough for uncompressed HDTV.
Here's a review of evolving WiFi standards:
IEEE 802.11n: Increased the maximum raw data rate from 54 Mbit/s to 600 Mbit/s by using as many as four spatial streams with a double width channel (40 MHz). MIMO architecture and wider channels improved speeds on 5 GHz and 2.4 GHz channels.
IEEE 802.11ac: Provides high throughput in the 5 GHz band. It uses 80 MHz and 160 MHz channel bandwidths (vs. 40 MHz maximum in 802.11n) and supports up to 8 spatial streams (vs. 4 in 802.11n)
IEEE 802.11ad: Provides high throughput in the 5 GHz band and 60 GHz bands. The 60 GHz band is stopped by walls, so range will be shorter, but the spectrum is wider, supporting nearly 7 Gbps throughput.
WiGig: A variant of 802.11ad, designed specifically for streaming high-definition video. The Wi-Fi Alliance and WiGig Alliances will cooperate on the 60 GHz technology. WiGig may deliver data transfer rates up to 7 Gbit/s and has become an adopter of HDMI for wireless video connections.
Wireless HD: A trade group led by SiBeam, allows for either compressed (H.264) or uncompressed digital transmission of high-definition video and audio and data signals, essentially making it equivalent of a wireless HDMI. The WirelessHD specification has provisions for content encryption via Digital Transmission Content Protection (DTCP). SiBEAM was acquired by Silicon Image in April 2011
The IEEE 802.11ac and 802.11ad standards may also use of Multi-user MIMO (MU-MIMO), where simultaneous streams are transmitted to different users on the same channels.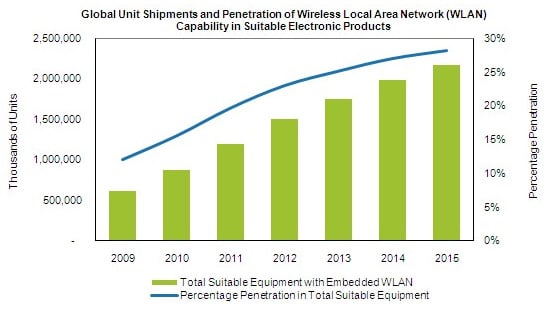 Analyst ABI Research claims the transition to IEEE 802.11ac standard wireless will occur rapidly, with devices utilizing the new standard emerging in 2012, with market dominance by 2014. The transistion to 60 GHZ IEEE 802.11ad is expected to follow a year or more after that.
Related Dailywireless stories include; Tri-Band WiFi from Atheros, Qualcomm Buys Atheros, 1 Gbps WiFi Next Year, Quantenna: 802.11ac Chipset and Fast Transistion to 802.11ac Predicts ABI