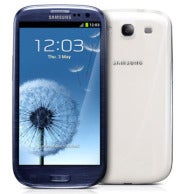 Samsung Electronics says global sales of its Galaxy S3 have surpassed 10 million, less than two months after its official release on May 29 in London. Its popular predecessor, the Galaxy S2 took five months to hit 10 million.
Industry watchers said that since Samsung's main rival, Apple's iPhone 5, is not expected to be unveiled until September or October, Galaxy S3 sales should remain strong in the third quarter.
Apple and Samsung together now hold 99% of smartphone profits, says Asymco's Horace Dediu. Apple has the lion's share of smartphone profits at 73%. Apple's share was down slightly from 75% in the previous quarter, but Samsung boosted its share from 16% to 26% to shut out nearly all other vendors.
Although the "feature phone" segment is not growing, it is still a large market (250 million units a quarter), says Asymco.
The worldwide mobile phone market is forecast to grow about 4.0% in 2012, says IDC. That's the lowest annual growth rate since 2009, due to a sharp decline in the feature phone market and sluggish global economic conditions, according to the International Data Corporation.