The Nexus 7 will lead Android tablets to overtake iPad, says Sameer Singh in Beta News. He looks at the global smartphone market share trends over the past couple of years.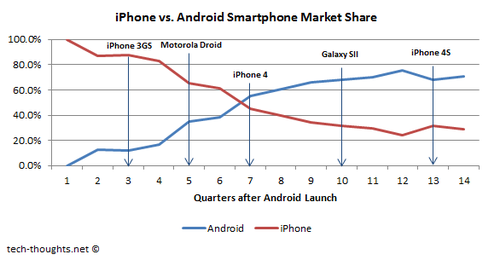 The primary reason for the sharp growth of the Android platform was international markets like Europe and a dominant presence in fast growing, emerging markets like China and South-East Asia, says Singh. Tablet shipments in emerging markets are set to skyrocket next year, says Pyramid Research, and Android tablets already have a dominant presence in these markets, according to GfK Retail and Technology Asia.

The entry of high quality, low-priced tablets like the Nexus 7 would create a huge boom in the international tablet market over the next year and could lead to Android tablets overtaking the iPad in Q2 or Q3 of next year, even after the launch of an 8GB iPad Mini at $299.

Conclusion: it is easy to come to the conclusion that Android tablets will eventually overtake the iPad because of their strong presence in emerging markets and pricing advantage. However, the timing of this change of guard will not only hinge on Apple's launch of an iPad Mini, but the pricing strategy they choose to follow.
Gartner forecasts Android tablet sales increasing eight-fold over the next five years, but iSuppli says Apple will maintain a dominant market share. They predict total global media tablet shipments will reach 124 million units in 2012, up 90 percent from 65 million in 2011, with shipments projected to increase to 197 million in 2013, to 250 million in 2014, to 285 million in 2015 and to 311 million in 2016.
A combination of data caps and higher retail prices will significantly hurt demand for LTE-equipped tablets, according to the latest report from research firm CCS Insight. As reported by FierceWireless, the firm found that the share of tablets shipped with cellular connectivity will slip to just 37% by 2016, down from 48% in 2011.
The top five ad networks streamed at least one billion ads each, reports Comscore. Google took the lead with 1.41 billion ads streamed. Their YouTube serves more than 99% of video on Google-related properties and is the third most popular website in the world, with 72 hours of video content uploaded every minute.
If tablets are to become a truly mass medium, comparable to newspapers or television, a $200 tablet might shoot for a 20 GB/month cap for $20. That's $1 per GB, or one tenth the current cost of 4G service. I pay $40/month and have used as much as 80 GB/month (on Clear), which is equivalent to $2/GB.
If advertisers subsidized half of that ($1 per GB), perhaps a truly global communications system, could deliver voice, data, and video (with no phone bills). The first thing we do is kill the cellular operators. They had their run.