OpenStreetMap, the increasingly popular Wikipedia-like map project, now used by Apple, Foursquare and others, has received a major funding grant. Founded in 2004, Open Street Maps is a collaborative project to create a free editable map of the world.
Knight News Challenge is putting $575,000 into the project, to pay employees of developer MapBox to work on core tools for OSM.
The Knight funding came out of The MapBox grant application proposed to create tools that make it easier for people to add data to OSM maps, monitor areas of interest and make custom maps. The Washington, D.C.-based company also plans to improve the OSM community site.
MapBox's main product is a platform for publishing maps based on OSM that is used by Foursquare, NPR and others as an alternative to the Google Maps API. Better data collection tools will help OSM. "It's not about the maps, it's about the data," say OSM proponents.
The MapBox team is aiming to release the first products next spring and plans to build out in public as open-source projects on GitHub.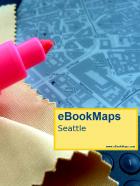 eBookMaps is OSM's downloadable raster street maps. They can be used for ebook readers such as Kindle, Nook etc.
For the last two weeks I've been working on a maps project myself.
The non-commercial website was been designed to explore the new Portland Streetcar Eastside Loop, which opens tomorrow. I made QR codes (mobile bar codes) so mobile users could snap a picture of the QR code to be automatically directed to a website about that stop.
What I need is something like Open Street Maps. I want to enable people to download the tour into their mobile device. That would eliminate the need for a wireless data connection.
Ultimately, my goal is to create a free, GPS-driven virtual tour. As you move along the route, your location would automatically trigger page loads and narration. You could choose different themes (Entertainment, Green, Business, People, Weird, or Random), and it would play automatically.
Ideally, it would be able to access crowd-sourced, geo-coded Wikipedia entries, but a clickable map approach might also be used, such as Portland's Spotsi or GeoLoqi.
It turns out the big problem was placing my business card sized QR codes along the streetcar line. The Streetcar organization said I couldn't place them anywhere near their property, and the city's rights of way were off limits, too.
I can see where it might be a potential problem if enough people posted QR codes all over the place. Maybe some kind of agreed standard size, identification or defined posting area will be necessary.