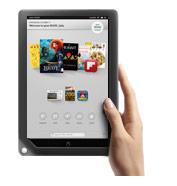 Barnes and Noble unveiled a 7-inch NOOK HD e-reader and a 9-inch Android-based NOOK HD+, with prices starting at US$199 and US$269, respectively. It notes that the latter is nearly half the cost of "the leading large-format tablet" – Apple's iPad.
The NOOK HD – touted as rival to Amazon's Kindle – claims to offer "the highest-resolution display ever" on a 7-inch tablet at 1440 x 900. It is powered by a dual-core 1.3GHz processor. The HD+ boasts a 1920 x 1280 display and uses a 1.5 GHz OMAP4470 Dual-Core Processor.
Barnes & Noble says the NOOK Store now offers more than 3 million books and "significant new additions and advancements to the NOOK content ecosystem." Both devices will be available in the US and UK later this year.
Barnes & Noble also announced a new NOOK Video offering that will premiere this fall. It will feature blockbuster movies, classic films and original TV shows from major studios such as HBO, Sony Pictures Home Entertainment, STARZ, Viacom and Warner Bros, plus movies from The Walt Disney Studios.
Barnes & Noble says their digital collection of popular films and television shows can be enjoyed anywhere on NOOKs tablets, TVs, tablets and smartphones. Barnes & Noble is also planning to make available content from other leading studios.
Videos can be streamed or downloaded from the NOOK Store to the NOOK Cloud, and viewed via a soon-to-launch free NOOK Video app, available on a variety of devices. As with the NOOK Reading apps, NOOK Video apps will seamlessly work together so customers can pick up watching right where they left off on any of their connected devices.
PubIt is Barnes and Noble's publishing service which supports E-Pub standard. eBook Readers let you view content on a variety of devices.