According to Dell'Oro Group, the small cell market is expected to almost quadruple by 2016, with small cells essential to meet the projected capacity needs of mobile operators.
Overall Wireless LAN market revenues are forecast to reach almost $10 billion in 2016, an increase of 54% over 2011 revenues, according to Dell'Oro Group.
Market researcher Mobile Experts expects significant growth for wireless backhaul links to support femtocells, picocells, microcells, and metrocells.
"Fiberoptic cable is the ideal solution, but is almost never available in the right places for high-capacity small cells," explained Dr. Jonathan Wells, Principal Analyst at Mobile Experts. "We expect the early small cell market to use RF backhaul below 6 GHz, to address the initial market requirements for throughput below about 80 Mbps.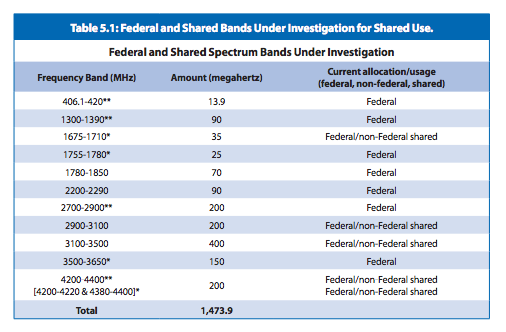 One alternative to the unlicensed 5 GHz band, may be sharing the spectrum. This approach is being explored by the NTIA (pdf) for utilizing the 2.7 – 3.5 GHz bands, used (infrequently) by the federal government.
The Whitehouse PCAST spectrum report (pdf) promotes expanded spectrum-sharing technologies, originally developed for unused "white space" tv frequencies.
According to the report, some 1000 MHz of federal spectrum, especially in bands above 2.7 GHz, may be shared using the same White Space interrogation technology. They advise a Test City should be contracted to test public safety and various Federal bands, initially focusing on the 2700 to 3700 MHz region.
The 802.11y standard is an amendment to the IEEE 802.11-2007 standard that enables high powered data transfer equipment to operate on a co-primary basis in the 3650 to 3700 MHz band in the United States, except when near a grandfathered satellite earth station. It is a "lightly licensed" approach.
Neither the client devices (which may be fixed or mobile), nor their operators require a license, but these devices must receive an enabling signal from a licensed base station before transmitting. All stations must be identifiable in the event they cause interference to incumbent operators in the band.
The cognitive radio vendor ecosystem currently includes major companies such as Alcatel-Lucent and InterDigital and small companies and startups such as Carlson and xG.