Verizon Wireless is launching a new targeted advertising system this week called "Verizon Selects." Customers can opt-in to let Verizon collect and use "location, web browsing and mobile application usage data, as well as other information including customer demographic and interest data", to help target advertisements to you from their partners.
The offers can come by text message, email or other mobile advertising. The company calls it Precision Marketing. Verizon Wireless will offer coupons or some other form of reward. Verizon says customers that are not a part of Verizon Selects unless and until they opt-in.
Customers can opt-in or change their choices at any time at the Verizon Selects site. Separate from Verizon Selects, there are several other Precision Market Insights solutions that provide customers with an opt-out choice.
AT&T also announced the launch of AT&T Alerts, a free opt-in, location-based text messaging service that delivers relevant offers from nearby retailers on their mobile phones. AT&T Alerts uses geo-location technology and consumer preferences to deliver offers and rewards, without having to download an application. Participating retailers and brands include the Gap, Staples, Zales, Duracell, Motorola, Discover, and many more.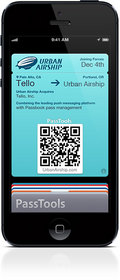 Verizon uses Urban Airship to deliver push notifications. Urban Airship provides a full suite of messaging and content delivery tools, including Push Notifications, Rich Media Messaging, In-App Purchase and Subscriptions.
Urban Airship will also provide its beta push messaging support for Windows 8 and Windows Phone 8 devices with Windows Azure providing the backend cloud infrastructure.
Today, Urban Airship announced it has acquired Tello, a company that streamlines the creation and management of passes for Apple Passbook to reach mobile consumers with coupons, tickets, and loyalty cards by having these stored on smartphones. Apple created Passbook to act as a digital wallet for ticket companies, restaurants, and retailers.
Verizon is Very Excited That It Can Track Everything Phone Users Do And Sell That To Whoever Is Interested, notes Forbes.
They used to say, "If you're not paying for it, you're the product." But now you can be paying $80 a month for it, and still be the product.
Too bad the FCC chopped Dish off at the knees. They could have been a contender.