Silicon Image says that cellphones will soon be able to wirelessly transmit 1080p at 60fps to a nearby television using the 60 GHz band. Their Ultragig 6400 is said to be fully compatible with all WirelessHD 1.1 compliant receivers, and also includes an integrated MHL 2.0 compliant transmitter for optional wired connectivity. It is currently sampling to mobile device manufacturers.
Up until now, explains Engadget the WirelessHD standard has been best suited to large, thirsty devices like laptops, AV adapters and projectors. The WirelessHD specification is based on a 7 GHz channel in the 60 GHz band. Lower powered WiFi-based options include Apple's AirPlay and Miracast, which sacrifice bandwidth, while a wired connection like Mobile High-Definition Link (MHL), means tethering to the TV. HDMI transfers uncompressed digital video data over a wire while DLNA makes it easier for consumers to share their digital media across a broader range of products.
Silicon Image says their chip can fit into a smartphone and won't require a big power drain while delivering full bandwidth. The 60GHz transmitter consumes less power than a smartphone's own local display (around 500mW, with a 30-foot line-of-sight range), has a mere 5ms latency to allow for interactivity, and shouldn't add more than $10 to the cost of manufacture.
Intel, Broadcom and Atheros all plan to integrate WiGig into Wi-Fi chipsets, and it could become part of a Wi-Fi trifecta (2.4/5/60GHz). The 60 GHz band could automatic fallback to 5 GHZ 802.11n for better range (at a sacrifice in speed).
If WiGig adopts both IEEE 802.11ad (in the 60 GHz band) and IEEE 802.11n or even IEEE 802.11ac (in the 5 GHz band), it could be a major force for consolidating high throughput home networking standards.
There are now half a dozen wireless standards competing for Gbps home networking:
The IEEE 802.11ac and 802.11ad standards may also use of Multi-user MIMO (MU-MIMO), where simultaneous streams are transmitted to different users on the same channels.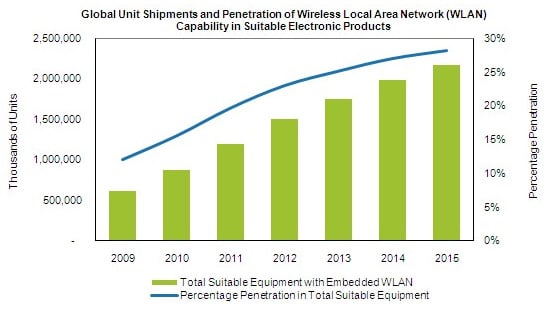 Analyst ABI Research claims the transition to IEEE 802.11ac standard wireless will occur rapidly, with devices utilizing the new standard emerging in 2012, with market dominance by 2014. The transistion to 60 GHZ IEEE 802.11ad is expected to follow a year or more after that.
Related Dailywireless stories include; Marvel 802.11ac: Now with 4×4 Beamforming, Fast Transition to 802.11ac Predicts ABI, Broadcom 802.11ac for Phones, Netgear 802.11AC WiFi Router, Cisco 802.11ac Router with Cloud Control, Quantenna: 802.11ac Chipset, Buffalo 802.11ac Routers, Tri-Band WiFi from Atheros, Qualcomm Buys Atheros, 1 Gbps WiFi Next Year, Quantenna: 802.11ac Chipset, Wireless Home Digital Interface: Replacing HDMI Cables?, HomeNetworking: A Universal Spec?, Wireless HDTV: Battle of the Bands, WiGiG: WirelessHD + Wi-Fi?, Wireless HDTV Gets Amimon Chips, Ultrawideband Proponent Shuts Down.