StickNFind is a Kickstarter project that uses your phone and a small tag to find lost items, using Bluetooth. Stick-N-Find stickers, about the size of a quarter, have a buzzer and light, so that you can find stuff also in the dark. Stick-N-Find Stickers have a Range of about 100 Feet, with a Battery that lasts for over a year.
StickNFind is now promoting their BluTracker, a "StickNFind on steroids," according to its creator.
BluTracker adds GPS and more power, for more range, up to 2,500 feet outdoors or a few hundred feet indooors. The water-resistant device uses a Bluetooth module and WiFi to boost the range, along with GPS for providing realtime location information. It's another Kickstarter project, with devices and a smartphone app promised for April, 2013.
On Google Maps you will see yourself as a blue dot and BluTracker as a red dot. You can also draw a circle to create a Virtual Fence around you. Any time the BluTraker moves outside this Virtual Fence, your phone will alert you.
It requires Bluetooth 4.0 (found on iPhone 4s, iPhone 5, new iPad, New Touch, mini iPad) and Android devices supporting Bluetooth Low Energy, running Android 4.0 and newer.
Leikr is another Kickstarter project, promoting a 2-inch, 320 x 240 display watch. Its navigation mode uses up to 8GB-worth of onboard OpenStreetMap data. It's designed by former Nokia engineers and connects directly to a cloud-based, Endomondo-integrated exercise portal using WiFi and Linux-based software. The project's Kickstarter page has a minimum $229 buy-in to lock down a final production Leikr by the summer.
ABI Research forecasts shipments of Bluetooth enabled sports and fitness devices will grow ten-fold from 2011 to 2016, totaling 278 million and representing over 60 percent of the total available market.
In it's new report, IC Insights says Bluetooth unit shipments will grow 29% per year over the 2010-2015 time period.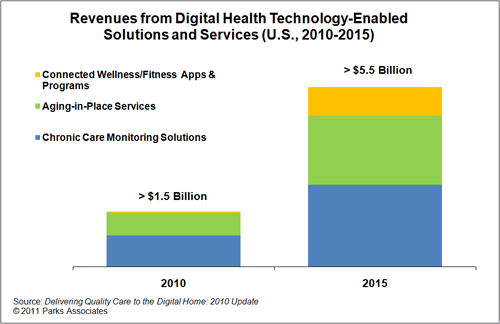 Juniper Research predicts by the year 2014, there will be a total of 2.7 million annual mobile health monitoring events globally, generating some $1.9 billion at the end of 2014.
Related Dailywireless articles include; Nike+ Accelerator Program for Startups, Bluetooth LE: Running for Certification, Real-time Running and Biking Apps, Bluetooth Bike and Fitness Sensors Get Smart , Polar Ships Bluetooth 4 Heart Monitor, HTC One S: Android 4 & Bluetooth Low Energy and FCC Okays Medical Body Networks, Wireless Control Expands Reach, Texting Clogs Cycling GPS Trackers at Olympics, Wireless Health Initiatives, Medical Devices Mobilize, Apps Enter the Twilight Zone, Mobile Health: Fast Growth , Open Source Tricorder and Mobile Health: Alive and Well.