Apple CEO Tim Cook has confirmed that a cellular version of the iPad mini will arrive in China this month, reports Next Web.
Last month, Apple's latest tablets received Chinese cellular approval, a requirement before the devices can go on sale there. Their Wi-Fi only version of the iPad mini and fourth-generation iPad arrived in China on December 7th, a week before the release of the iPhone 5.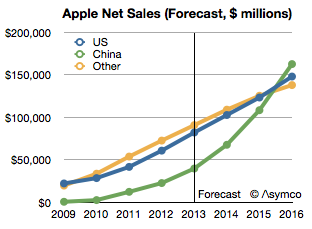 Cook admitted that Apple devices do take longer to arrive in China because of a longer approval time. He mentioned efforts the company has taken to shorten the approval time and pledged to continue working on the issue.
Tim Cook also met with China Mobile chairman Xi Guohua on Thursday. Currently China Mobile, with over 700 million subscribers, is the largest carrier in the world. Unlike China Unicom (GSM) or China Telecom (GSM/CDMA), China Mobile requires their unique 3G standard (TD-SCDMA) or their 4G standard (TD-LTE) to operate.
China Mobile, Softbank, and Clearwire essentially utilize the same technology and share the same 2.6 GHz frequency band (band 41). That makes interoperability of consumer devices and infrastructure more likely.
It's probably a safe bet that Apple will soon announce support for tablets and phones on the 2.6 GHz band, used by China Mobile, Softbank and Clearwire. And why not. China Mobile, India's Airtel, Japan's Softbank and Sprint/Clearwire have over one billion mobile subscribers between them. Any LTE "world phone" needs to support 2.6 GHz. China will have 200,000 TD-LTE basestations installed this year. Some test.
At first, the service at 2.6GHz will be significantly inferior to AT&T and Verizon, with spotty coverage. But as microcells get built out in urban areas, Sprint and Softbank are betting it will win supporters. It will have to compete with AT&T's "hetnets" promoting indoor WiFi. Then there's the wild card. Charlie.