T-Mobile USA will launch its first LTE market in Las Vegas any day now, reports Fierce Wireless. CTO Neville Ray told FierceWireless that that T-Mobile's launch in Las Vegas will be followed quickly by a launch in Kansas City.
He also hinted that the company's LTE market launches will follow a path similar to its 1900 MHz HSPA+ launches. With HSPA+ in the 1900 MHz band, T-Mobile launched Las Vegas first, followed by Kansas City; Baltimore; Houston and Washington, D.C.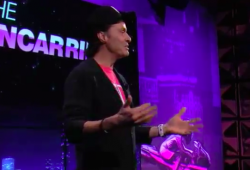 T-Mobile announced multi-year agreements with Ericsson and Nokia Siemens Networks to support their $4 billion 4G network evolution plan, and a move to LTE Release 10 (LTE-Advanced) using Frequency Division on their AWS band. T-Mobile claims it will cover more than 200 million people with LTE by the end of 2013.
T-Mobile selected Ericsson and Nokia Siemens Networks to deploy 37,000 next-generation base stations. T-Mobile said it would be the first carrier in North America to deploy antenna integrated radios, or remote radio heads, key design elements in NSN's Liquid Radio architecture and Ericsson's Air Integrated Radio platform.
T-Mobile secured the AWS spectrum licenses from AT&T which were agreed to as part of the breakup of the proposed merger between the two companies. This new spectrum, in addition to the refarming effort, enables the launch of LTE in AWS spectrum and up to 20 MHz of LTE in 75% of the top 25 markets.
The carrier is moving its HSPA+ onto the 1900 MHz PCS spectrum. The iPhone does not support the AWS (1.7/2.1 GHz) bands that T-Mobile currently uses for HSPA. As HSPA+ is moved to the PCS band, Frequency Division, LTE-Advanced will began to be offered in the AWS band.
T-Mobile now has 100 million POPs covered with HSPA+ on 1900 MHz, and has said 170 million will be covered by mid-2013 and 200 million covered by the end of 2013. T-Mobile hopes to have 20×20 MHz LTE channels in 90 percent of the nation's top 25 metro areas in the next year or two.
Meanwhile, LTE-Advanced is also rolling out on AT&T and Clearwire.
AT&T plans to deploy Advanced LTE in the later half of 2013. The carrier recently hit its goal of covering 150 million POPs with LTE by year-end 2012; and plans to cover 250 million people by the end of 2013 with 300 million by the end of 2014.
Clearwire plans to use TD-LTE Advanced with carrier aggregation for 40 MHz-wide channels capable of over 150 Mbps. Qualcomm's latest chips feature an on-die Advanced LTE modem capable of 150Mbps and support 802.11ac Gigabit WiFi.
Sprint's FD-LTE network in the AWS band announced 28 additional cities this week. Sprint introduced its all-new LTE network in July 2012 and currently offers service in 49 cities.