More than 800,000 people are expected to be on the National Mall and lining the parade route when President Barack Obama is inaugurated for his second term today. For the first time ever, the Presidential Inauguration Committee has an app that will help people nationwide—and at the event itself—connect via Facebook and Twitter.
This time around nearly a million people will be sending photos, videos and text messages on smartphones, with demand for data five or six times greater than the demand during the last inauguration say telecommunications companies.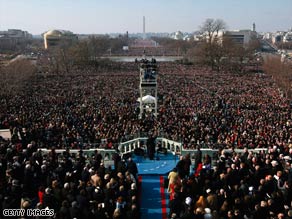 Four years ago wireless service was spotty when few people had smartphones. This year the strain on the network will be much worse, with a crowd much larger than any Superbowl.
Verizon said it enhanced coverage by adding new cellphone towers, upgrading old towers, and bringing in temporary mobile units known as "COWs," or cells on wheels.
AT&T has spent more than $815 million upgrading its networks in the Washington area since the 2009 inauguration and has doubled mobile broadband capacity on the Mall. The company also will deploy nine COWs.
Sprint has invested more than $300 million in local upgrades to its wireless network since then. Data capacity is up 37 percent, and voice capacity is up 25 percent. The company is deploying three COWs.
Here's just a partial list of where to tune in:
See Dailywireless: Carriers Prep for 2009 Inaugural, 2012 Superbowl Goes 4G