To date, just 10 countries have managed to build their own rocket and successfully deploy a satellite. Now it's 11.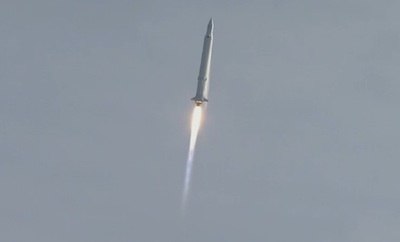 South Korea successfully launched a satellite aboard part-Russian, part-Korean rocket on Wednesday, marking the first time the rising Asian power has launched a spacecraft into orbit from its own soil.
South Korea mostly self-developed the two-stage Naro rocket and put the vehicle's SSTSAT 2C satellite into orbit in a 186-mile by 932-mile orbit, where the craft would test new space technologies and monitor plasma and radiation levels in low Earth orbit.
Wednesday's launch was the third flight conducted under a 2004 agreement between South Korea and Russia.
The apparently successful mission comes after two botched launches destroyed their payloads in 2009 and 2010. The Korea Aerospace Research Institute is working with contractors to build completely in-house rocket stages by 2016, and reach 300 tons of thrust as soon as 2018. South Korea is working on an indigenous engine to power an all-Korean satellite launcher for a planned test flight in 2021.
The following nations have developed their own rockets to launch spacecraft into orbit:
Soviet Union (1957)
United States (1958)
France (1965)
Japan (1970)
China (1970)
United Kingdom (1971)
India (1980)
Israel (1988)
Ukraine (1991)
Russia (1992)
Iran (2009)
North Korea (2012)
South Korea (2013)
Meanwhile, the first of NASA's three next-generation Tracking and Data Relay Satellites (TDRS), known as TDRS-K, launched Wednesday from Cape Canaveral Air Force Station in Florida.
The TDRS system is designed to provide tracking, telemetry, command and high-bandwidth data return services for numerous spy satellites and also serves the International Space Station and NASA's Hubble Space Telescope.
The first seven TDRS satellites were built by the TRW (now part of Northrop Grumman Aerospace) and all of the satellites since then by Hughes Space and Communications (now a part of the Boeing corporation).
The TDRS-K spacecraft includes several modifications from older satellites in the TDRS system, including redesigned telecommunications payload electronics and a high-performance solar panel designed for more spacecraft power to meet growing S-band requirements. A return to ground-based processing of data, will allow the system to service more customers with evolving communication requirements.
Boeing's Sea Launch was established in 1995 as a consortium of four companies from Norway, Russia, Ukraine and the United States. The first rocket was launched in March 1999. In June 2009, Sea Launch filed for Chapter 11 bankruptcy and majority ownership was transferred to Energia, a Russian corporation.
Since it was reorganized in 2010, a 95% stake in it has been held by Energia Overseas Limited, 3% by Boeing's subsidiary and 2% by Norway's Aker Solutions ship-building corporation. Sea-based launches resumed in September 2011.
Serguei Gugkaev is the Chief Executive Officer of Sea Launch AG, serving in this capacity since 2012. He held a variety of positions within the Swiss investment banking industry functioning as a financial and strategic advisor to the oil industry, private-public infrastructure partnerships and the information technology industry.
SES, the world's second-largest telecommunications satellite operator by revenue (after Intelsat), operates a fleet of 52 geostationary satellites able to reach 99% of the World's population.
SES has a new iPhone app to view their satellites in orbit, compare coverage maps, say hello to a friend from 36'000 km above the earth, and features 3D navigation and an augmented reality view from their SES iPad app.
The app provides the following features:
View SES satellite fleet around a 3D globe
Get key technical data on each satellite
View and compare the coverage maps of all SES satellites
See EIRP and dish size contours in graphical format
Find the fleet in augmented reality view
Learn about satellites covering any location
View office and Teleport locations
Get in touch with SES via email
SES launched three major telecommunications satellites in 2012; SES 4, SES 5 and ASTRA 2F.
The SunSat Satellite Communications website will locate a phone anywhere in the world. You enter a phone number, select a country, and click the search button. After connecting to the nearest GPS satellite, the system locates the target phone (which does NOT need to be equipped with any form of GPS technology), and presents you with a satellite image that zooms in on the phone's location.
It will surprise you.