In a filing with the FCC, Verizon says the FCC should cap Clearwire's spectrum with a "spectrum screen" as it does in other bands. Sprint has argued that Clearwire's spectrum is above 2 GHz and so should not be applied to its purchase of Clearwire, although Clearwire is already using 2.6 GHz spectrum for mobile broadband.
In sum, of the 194 MHz of BRS/EBS spectrum, the Commission should include in the spectrum screen all but the 5 percent of EBS spectrum (5.875 MHz) dedicated for educational use, for a total of 188.125 MHz. Only by doing so can the Commission conduct a proper competitive review of the SoftBank-Sprint-Clearwire transaction that accurately reflects the full amount of spectrum that is suitable and available for wireless providers to compete.
proposal.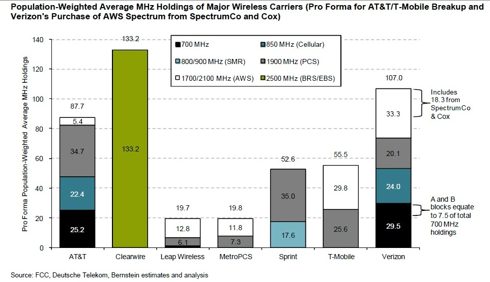 If the FCC approves Sprint's acquisition of Clearwire, Sprint will be the largest spectrum holder in the United States, with an average of just over 200 MHz of spectrum across the country. It will own roughly as much spectrum as AT&T and Verizon combined, while having a quarter of the subscribers.
Sprint's proposed acquisition of Clearwire (filing) is tied to Softbank's proposed purchase of 70 percent of Sprint for $20.1 billion, explains Fierce Wireless. Verizon did not take a position on the Sprint/Softbank or Sprint/Clearwire deals, but made it clear that if the FCC approves the transactions it wants Clearwire's spectrum evaluated in the same way as other radio waves. Petitions to deny the deals were due Monday.
The FCC is currently evaluating its spectrum screen rules and has said that while that review is ongoing it will continue to apply its current case-by-case approach to evaluate mobile spectrum holdings.
Verizon noted that when the FCC approved AT&T Mobility's purchase of 2.3 GHz WCS spectrum recently, it added 20 MHz of WCS to its spectrum screen because it had determined that WCS spectrum is "suitable and available for the provision of mobile telephony/broadband services" and "should therefore be added to the spectrum screen."
Both Verizon and AT&T made similar arguments to the FCC in November as part of the FCC's separate review of its spectrum screen rules. At the time, AT&T said the FCC should update the screen "to include all of the available spectrum that is 'suitable' for mobile wireless services."
Sprint Nextel offered to acquire Clearwire Corp. in a $2.1 billion deal, for $2.97 per share. This values Clearwire at around US$4.2 billion and represented about a 5 percent premium from its closing stock price at the time. On December 17, 2012, Clearwire entered into a definitive agreement with Sprint Nextel for Sprint to acquire the approximately 50 percent stake in Clearwire it does not already own.
Meanwhile, Dish Network has urged the FCC to halt its review of the deal while Clearwire's board considers Dish's unsolicited $3.30 per share counterbid for Clearwire. It may force Sprint to raise its $2.97 per share offer to match it.
Crest shareholders have piled on, particularly regarding the processes that "Sprint has employed to extract all of Clearwire's value for itself at the expense of the public and other Clearwire shareholders".
Sprint has said the FCC should not delay its review, arguing that the FCC "routinely processes transfer of control applications notwithstanding the existence of shareholder litigation or closing contingencies, such as the need for shareholder approval."
ARCchart is predicting TD-LTE services will reach $91 billion by the end of 2017. While FDD remains prevalent in re-farmed 2G/3G spectrum, unpaired TDD spectrum is widely preferred in the 2.3 GHz and 2.6 GHz bands. Apple is rumored to be working on a new iPhone 6 that will work with China Mobile's TD-LTE system at 2.6 GHz.
Related Dailywireless articles include; Sprint to Buy Clearwire, Dish's Joe Clayton Talks, FCC Approves Dish Spectrum for Mobile Broadband, Sprint Buying Clearwire?, Sprint + Dish?, Sprint Gets Majority Control over Clearwire, Sprint Won't Buy Clear – For Now, Clearwire Cuts TD-LTE Deployment, China Mobile: Go For TD-LTE Launch, Dish: On the Move , Dish and Sprint Battle over PCS band Extension, Dish CEO: T-Mobile Partnership?, Clearwire: On the Hot Zone, Dish LTE-Advanced Called "Ollo",