Tarana Wireless officially unveiled today its plans to bring to market a universal small cell backhaul solution. Tarana claims it meets all mobile carrier requirements and can be deployed anywhere small cells are located.
Tarana devices are configured to form a single-hop star with the connecting node aggregating links and capacity for multiple end nodes. Should a concentrator node fail, the system automatically switches to another concentrator node with minimal packet loss, according to the company website.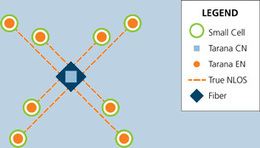 Emanuel Fleishman says Tarana operates in the sub-6GHz frequency bands (licensed and license free). The concentrator can connect to up to 10 end nodes concurrently and delivers in aggregate, a full gigabit of backhaul capacity.
Tarana says it is the first metro scale solution to incorporate dedicated high capacity links that have the ability to retain performance even as small cell density increases and can be deployed across a complete range of non-line-of-sight (NLoS) to line-of-sight (LoS) operation.
Tarana utilizes an antenna array that has automatic alignment at both ends. The company has generated buzz, but exactly what Tarana will bring to the party may not be unveiled until Mobile World Congress later this month.
Backhaul solutions for LTE small cells will be a hot topic at MWC, since fiber is often not available or convenient. Thinksmallcell.com has additional news and information on the topic.