T-Mobile's Chief Technology Officer Neville Ray discussed his company's LTE rollout last month at CES. T-Mobile has said it plans to launch LTE for 100 million pops by mid-year, with 200 million covered by the end of 2013. Las Vegas is expected to be T-Mobile's first LTE city. T-Mobile operates GSM on 1900 MHz (PCS) in the US and puts HSPA (and LTE) on the AWS band (1.7/2.1 GHz).
T-Mobile inked multi-year agreements with Ericsson and Nokia Siemens Networks (NSN) last year to deploy its $4 billion 4G network. The agreements call for Release 10-capable equipment, also known as LTE Advanced, at 37,000 cell sites across T-Mobile's network, beginning in 2012 and completing in 2013.
NSN will provide its Evolved Packet Core platform, including Flexi NS (Network Server) and Flexi NG (Network Gateway). The company will also provide its Single RAN Advanced platform based on its Flexi Multiradio 10 Base Station. It's LTE-Advanced ready, and can evolve today's 3G and LTE networks to future technologies with a software upgrade.
T-Mobile was the first carrier in North America to rollout Ericsson's antenna-integrated radios for faster deployment and reduced site loading. Ericsson launched its antenna-integrated radios at the Mobile World Congress in Barcelona last year. According to CTO Neville Ray, "We can save months in terms of deployment with this product on a per-site basis."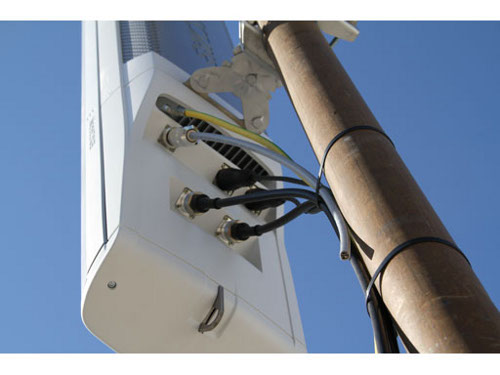 T-Mobile USA is currently deploying Ericsson's AIR 21 product. According to Ray, it offers a fast-track way of getting LTE into the marketplace.
Ericsson's latest offering in the family is the AIR 32, which allows operators to add LTE or HSPA(+) without deploying additional antennas or remote radio heads (RRHs) on cell sites. According to Ericsson, the new model claims up to 70% higher throughput than its predecessors by implementing 4×4 MIMO antenna arrays, and up to 25% better indoor coverage. It supports multiple active frequencies, reducing radio equipment by 50%.
The Vegas launch will be followed by "a series of LTE markets coming on line through Q1 and Q2," Ray said.
Some existing T-Mobile and AT&T LTE devices may work on T-Mobile's new LTE network. "The Samsung Galaxy Note 2 can be an over-the-air software update" to work with LTE, Ray said, and "some AT&T LTE phones will work on the network, so there will be customers that can experience the LTE network," he said. A new reports suggest that T-Mobile is working on a LTE variant of the popular Nokia Lumia 810, which is exclusive to the carrier.
T-Mobile's first LTE mobile hotspot, will be called the T-Mobile Sonic 2.0 Mobile HotSpot. The device is set to launch on March 27th, but the pricing for the device is still unknown. The hotspot features a simple, black design with a power button, navigation buttons, and a color display that shows your connection info, battery life, settings menu, number of people connected to the hotspot, and more.
T-Mobile's CEO John Legere discussed how the company plans to beat their competition with their LTE rollout, going as far as to call AT&T's network "crap" in the New York City area.
Kevin Fitchard in GigOm says LTE-Advanced is the newest overhyped mobile industry buzzword.
There are no true LTE-Advanced networks, chips or devices in the market today and there won't be for many years. The mobile industry is playing an old game: technology inflation.
But that doesn't appear to be true. T-Mobile and Clearwire are both building true LTE-Advanced networks. T-Mobile will be using FD-LTE in the AWS band and Clearwire will be using TD-LTE in the 2.6 GHz band. T-Mobile has also made HSPA+ service available in the 1900 MHz band, for compatibility of the iPhone, which doesn't (yet) support the AWS band.
Devices to support these new LTE-A networks may lag the infrastructure rollout, but the anecdotal press releases indicate that mobile devices capable of utilizing the two LTE-Advanced networks will be available later this year. Verizon has said they will rollout their AWS network with LTE-A later this year and into 2014.
Meanwhile, Sprint has switched on its FD-LTE network in some pockets of San Francisco, New York City (and other parts of New York State), Washington, D.C. and some "cities in Florida," including Jacksonville, Miami and Tampa, spokesperson Kelly Schlageter told The Verge. Sprint uses an earlier release of LTE in the 58 markets it currently covers using it's FD-LTE technology (5 MHz x 5 MHz) in the PCS band, but it will be upgraded to LTE-A in the first half of 2013, according to Sprint's CTO (above).
AT&T, Sprint and T-Mobile USA are expected to launch HTC's forthcoming flagship Android smartphone, the M7, according to HTC Source. The tricky bit for Sprint may be fielding a phone that can do CDMA (at 800 & 1.9 GHz), FD-LTE (at 1.9GHz) and TD-LTE (at 2.6GHz). Seamlessly. That may take a little doing. Perhaps the LG Optimus G could be a Nexus "LTE world phone" if it supported LTE on the 2.6 GHz band and GSM on the other bands.
LTE Advanced provides carrier aggregation which can combine two or more carriers into a single channel. It can combine spectrum both within a single band and across multiple bands to provide higher peak data rates (up to 150Mbps over 20MHz), improved coverage and a better mobile broadband experience. Two carrier aggregation cases will be demonstrated at MWC this year, including one on TDD spectrum.
Global LTE smartphone shipments will grow threefold to reach 275 million units in 2013, reports Strategy Analytics, with only 90.9 million units expected to have shipped in 2012. Tablet shipments will hit 120 million units in 2012 only after two short years of the device being on the market, and 340 million systems are expected by 2016, according to IHS iSuppli, though most will use WiFi to connect.
Related Dailywireless articles include; Ericsson: Big Guns in Barcelona, What is LTE-Advanced?, Cisco Small Cells, Small Cells, Big Deal, AT&T: 40,000 Small Cells, Sprint to use LightRadio for Small Cells, Small Cell, Big Growth, FirstNet: The Asymetrical Threat, Intel: Basestation in the Cloud, China Mobile Awards Contracts for TD-LTE, London: The Biggest Small Network in the World, AT&T: 40,000 Small Cells, Softbank & Sprint Do a Deal, WiMax Forum Embraces TD-LTE, Alcatel-Lucent: Small Cell lightRadio, Telefónica Launches lightRadio in Barcelona, South Korea Completes Nationwide LTE Coverage