Clearwire is expected to decide by Friday if it wants to partner with Sprint, says the Seattle Business Journal. Meanwhile, Clearwire plans to tap financing made available by Sprint, reports the Wall Street Journal.
Sprint announced in December it hopes to buy the shares in Clearwire that it didn't already own. At the time, it also agreed to provide up to $800 million of financing to Clearwire through notes that convert into stock. Clearwire can sell Sprint $80 million of the notes each month for up to 10 months, but Clearwire didn't draw on the funds in January or February.
Taking the money would suggest Clearwire picks Sprint as its suitor, and not Dish, says the Seattle Business Journal.
Clearwire's decision appeared to contradict its previous assertion that it could not take financing from Sprint as long as it was considering a $3.30-per-share offer that came from Dish due to conditions set by the satellite TV provider, notes Reuters, although Clearwire vowed to continue talks with rival bidder Dish.
Dish Network is unlikely to partner with Sprint on a wireless broadband venture serving mobile devices if Dish fails to gain control of the Clearwire frequencies, said Ergen, founder and chairman of Dish, in a Feb. 20 conference call.
"If that transaction went through, Sprint's your most likely partner," Ergen said. "Were we to lose that bidding war, or [were we] not to prevail with our offer for Clearwire, Sprint's probably not a likely partner," Ergen said.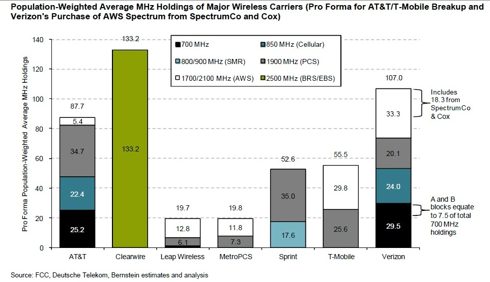 Satellite industry analyst Tim Farrar says he wouldn't be surprised if Dish then takes another run at MetroPCS, the wireless broadband company that reached a merger agreement with T-Mobile.
Dish tried top buy MetroPCS in August with a deal worth $4 billion, only to be outbid by T-Mobile; and then Dish pursued Clearwire. The MetroPCS shareholder vote on the T-Mobile offer is looming, so Dish would have move quickly, Farrar said.
Other partnerships might include a deal with T-Mobile or AT&T. But a pole position with those operators might sacrifice Dish's desire for autonomy and independence.
"We don't think Clearwire is the only alternative for us," Ergen said. "Given the lay of the land, we believe that it's the best option for us today."