T-Mobile USA, the forth largest provider of mobile wireless in the United States has won FCC approval to merge with MetroPCS, the fifth largest, and a provider in only certain regions of the country, reports Bloomberg.
On March 6, 2013, the deal was approved by the US Department of Justice which determined that the combination of T-Mobile and MetroPCS is unlikely to harm consumers or substantially lessen competition and has closed its investigation.
MetroPCS will hold a Special Meeting of Stockholders to vote on the merger, on April 12, 2013, which will create the value leader in the U.S. wireless marketplace.
The Rural Telecommunications Group, an advocate for smaller carriers, cheered approvals of the merger.
"By combining forces, T-Mobile and MetroPCS will have the capital and spectrum resources to create a thriving, LTE-based nationwide competitor to AT&T Inc. and Verizon Wireless," the group said in a written statement attributed to General Counsel Carri Bennet.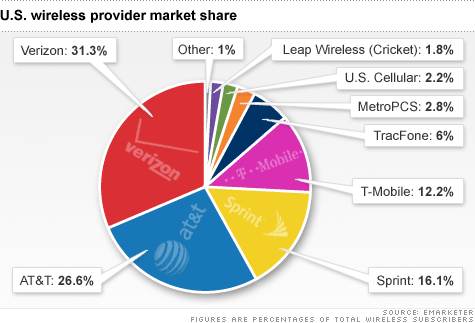 The new company (T-Mobile) will have 42.5 million customers according to the most recent data, or about 11.7% of the US wireless market. That number is comparative to the 58.5% combined share of AT&T and Verizon or Sprint's 15.2%. The new company will continue to use the T-Mobile name and keep MetroPCS as a separate branding that will extend to new cities, according to fillings with the FCC.
MetroPCS currently has 19 markets running 4G LTE in 2X5MHz channels, but MetroPCS shares CDMA and LTE on their AWS band, so their 4G data speeds are similar to 3G speeds.
The band will have to be cleared of CDMA before it can be repurposed entirely for LTE. Meanwhile, the MetroPCS LTE service is "LTE" in name only. Since the AWS frequencies have been shared with CDMA, it's speed is generally less than T-Mobile's HSPA.
The combined company delivers around 42.5 million subscribers in the U.S. with an estimated revenue of around USD 24.8 billion with an EBITDA margin of around 28.6 percent.
The company's presentation indicates it will capture growth in industry's fast growing no-contract services, with:
Greater customer value and choice Value Leadership
Greater spectrum position, network coverage and capacity
Deeper LTE network deployment with path to at least 20×20 MHz
Improves marketing and purchasing scale
Projected cost synergies of $6 – $7Bn NPV(1)
Clear cut technology path to one common LTE network
Straightforward integration with clear migration path for MetroPCS subscribers onto TMobile network
Merging T-Mobile and MetroPCS could prove tricky, reports the NY Times. While the two could eventually combine their LTE networks, the majority of their phones run on incompatible network standards, reducing any cost savings from a tie-up in the short run.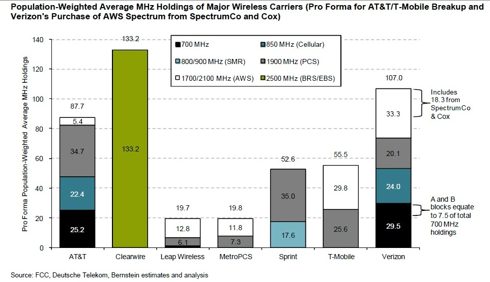 Related Dailywireless articles include; T-Mobile/MetroPCS Merger: Okay By DOJ, MetroPCS Merges with T-Mobile USA, T-Mobile USA Upgrades to LTE, T-Mobile Gears Up for LTE, T-Mobile Gets AWS Spectrum from Breakup and T-Mobile & Leap Wireless Do Spectrum Swap