MetroPCS shareholders voted Wednesday to approve a merger with No. 4 U.S. wireless service provider T-Mobile USA, after T-Mobile sweetened its terms under pressure from activist shareholders, reports Reuters.
The transaction will probably be completed by May 1 after today's ballot cleared the final hurdle for the combination of the country's fourth- and fifth-largest wireless carriers, Bonn- based Deutsche Telekom said in a statement. Shareholders will receive $4.06 per share in cash plus stock equivalent to 26 percent of the combined company in the reverse merger and Deutsche Telekom will own the rest.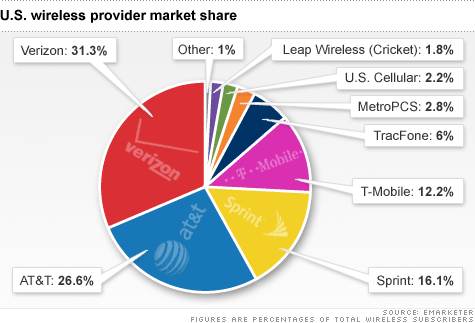 The merger, first announced in early October 2012, was stalled when the biggest MetroPCS shareholder Paulson & Co had threatened to vote against it.
The new company (T-Mobile) will have 42.5 million customers according to the most recent data, or about 11.7% of the US wireless market. That number is comparative to the 58.5% combined share of AT&T and Verizon or Sprint's 15.2%. The new company will continue to use the T-Mobile name and keep MetroPCS as a separate branding that will extend to new cities, according to fillings with the FCC.
MetroPCS, a provider of prepaid service, and T-Mobile USA will combine their spectrum assets to compete better with bigger rivals.
The combined T-Mobile and MetroPCS will have 76 MHz of total spectrum in the top 25 major metro areas, reports Fierce Wireless. The combined company will count 60,000 cell sites and distributed antenna network nodes, resulting in around 765 subscribers per cell site. T-Mobile has said it will consolidate MetroPCS' network in certain areas by decommissioning unneeded sites.
T-Mobile USA recently eliminated most phone subsidies, and started selling Apple's iPhone for the first time. But its LTE build out, in the AWS band, is behind the big three carriers.
In 2011, antitrust regulators blocked a $39 billion deal bid for AT&T to buy T-Mobile USA. The merger with MetroPCS should enhance the competitiveness of the the number 4 carrier.
Ericsson and Nokia Siemens Networks are T-Mobile's primary LTE infrastructure vendors and have been installing LTE Release 10-capable equipment at 37,000 cell sites across T-Mobile's network footprint. Ericsson's AIR 32 allows multiple frequencies in a single unit. NSN's Flexi Multiradio 10 Base Station is said to be the world's smallest software-defined base station.
Related Dailywireless articles include; T-Mobile to Pay More for MetroPCS, T-Mobile/MetroPCS Merger Okayed by FCC, T-Mobile/MetroPCS Merger: Okay By DOJ, MetroPCS Merges with T-Mobile USA, T-Mobile USA Upgrades to LTE, T-Mobile Gears Up for LTE, T-Mobile Gets AWS Spectrum from Breakup and T-Mobile & Leap Wireless Do Spectrum Swap