Over the weekend, NASA successfully launched into space three satellites consisting mainly of smartphones. The PhoneSats, have been transmitting signals to ground stations on Earth and will remain in orbit for as long as two weeks (#NASA_PhoneSat).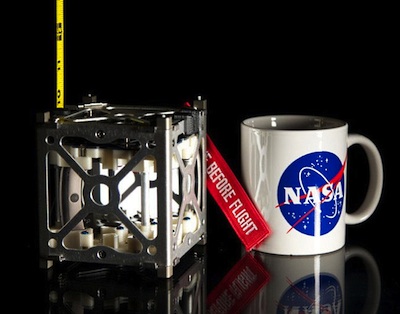 The Phonesats took off from NASA's Wallops Island Flight Facility in Virginia with three satellites; PhoneSat 1.0, dubbed Graham and Bell, and an early prototype of PhoneSat 2.0, called Alexander.
Launched by the privately-developed Antares rocket, operated by Orbital Sciences, the Antares rocket engines lean on Russian moon legacy. Orbital Sciences and SpaceX were picked by NASA for cargo services to the ISS.
Using commercial off-the-shelf smartphone components, PhoneSat 1.0 was built using HTC Nexus One, while PhoneSat 2.0 — which has improved software and more sensors — is powered by Samsung Nexus S. Each NASA PhoneSat nanosatellite is one standard CubeSat unit in size and weighs less than four pounds.
Since the demonstration flight began, Alexander, Graham and Bell have been broadcasting signals over amateur radio band at 437.425 MHz. NASA created Phonesat.org, a website where anyone around the world can upload data "packets" they receive from the PhoneSats. The site has already collected more than 200 packets from amateur radio operators who have been tracking the satellites.
Each miniature satellite, measuring only four inches on each side and weighting less than four pounds, cost $3,500 to construct. NASA said its goal with PhoneSats is to send cheaper, easier to build satellites to space. Sunday's launch is estimated to cost as little as $50,000. As a comparison, a typical satellite costs as much as $500 million.
A similar British smartphone-based satellite named STRaND 1 launched in February and was initially operated with a conventional CubeSat computer before it was supposed to be switched over to an on-board Android-based Nexus One phone.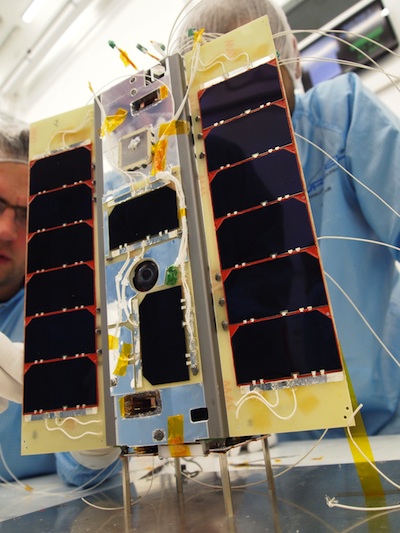 But STRaND 1 stopped communicating with Earth a few weeks ago, before engineers at Surrey Satellite, the builder of the spacecraft, were able to turn on the smartphone control system.
The STRaND 1 team is working with amateur radio operators to search for signals from the satellite.
Related DailyWireless CubeSat stories include; Surrey Satellite Launches Smartphone in Space, NASA Enters CubeSat Race, Hackerspace Satellite , Formation Flying Swarmbots, Nexus S in Space, Small Satellite Conference Celebrates 25 Years, Space-Based Vessel Tracking, AIS Space Race , Orbcomm's Space-based AIS Fails, FabFi: Cell Network in a Suitcase, Rebel Phone Network, High School Builds Police Robot, Atom Shrinks, Climate Satellite and Cubesats Lost, Funding Found For Flexible, Free-Flying Satellite Swarms, Small Satellite Conference,