Barnes & Noble has added the Google Play store to its two latest tablets, the Nook HD and Nook HD+.
With Google Play, customers have access to more than 700,000 Android apps and games, millions of songs and more. Barnes & Noble's 7- and 9-inch tablets will also include popular Google services like the Chrome browser, Gmail, YouTube, Google Search and Google Maps.
Barnes & Noble will still offer the expansive NOOK Store with more than 3 million digital books, plus periodicals, comics, apps, movies and TV shows, and the ability to enjoy content across a wide array of popular devices through free NOOK Reading Apps and NOOK Video apps, available at www.nook.com/freenookapps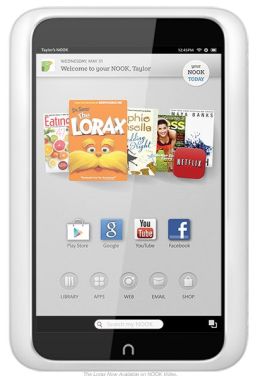 The free software update doesn't turn the company's tablets into true "open" Android devices, but it does make them much more open.
C/Net notes it's not often that a company place a direct competitor on its device after investing so much in its own store. But that's what Barnes & Noble has done, giving customers the option of buying apps, books, and movies from the Nook Store or the Google Play Store a few swipes away.
Barnes & Noble's Nook HD ($199), has faced major competitors in Amazon's Kindle Fire HD ($199), Google's Nexus 7 ($199), and to a lesser extent, Apple's iPad ($499).
The $199 NOOK HD features a 7 inch, 1440 x 900 pixel display and 8GB or more of storage. The $269 NOOK HD+ has a larger 9 inch, 1920 x 1280 pixel display and 16GB of storage or more.
You can even add the Kindle app as well as the Kobo app to the Nook. Nook owners can also grab the HBO Go app that has been missing from the Nook Store, as well as games and apps weren't on the Nook Store.
Nook Tablet and Nook Color owners are apparently out of luck, but 3rd party rooting is likely to offer a solution.
Barnes & Noble reps said that the Nook Store would continue to coexist side-by-side with the Google Play store and users will be able to import their bookmarks from the Nook's old browser to the new Chrome browser.
To distinguish apps that you've bought in the Nook Store, a small "n" will appear as part of its icon in the navigational carousel at the top of the screen. Content bought in the Google Play store, such as movies, music, and e-books — will be accessible through Google's "players," not Barnes & Noble's.
While Barnes & Noble is now more open, Amazon is maintaining their Walled Garden approach.
IDC predicts the worldwide tablet market to reach 190.9 million units in 2013. The latest forecast update of the Worldwide Quarterly Tablet Tracker estimates tablet shipments to be upwards of 350 million by the end of 2017.
"One in every two tablets shipped this quarter was below 8 inches in screen size. And in terms of shipments, we expect smaller tablets to continue growing in 2013 and beyond," said Jitesh Ubrani, Research Analyst for IDC's Tablet Tracker.
TDG estimates in 5 years, annual TV viewing on tablets will equal 10% of all US TV and video consumption. They predict 65% of US households will own tablets at the end of 2017 and the average number of tablets per household will more than double from current levels.