According to new documents provided by Edward Snowden to The Guardian newspaper (but not, as yet, published in full), the British signals intelligence organization, known as the Government Communications Headquarters (GCHQ), has the "ability to tap into and store huge volumes of data drawn from fibre-optic cables for up to 30 days so that it can be sifted and analysed."
The Guardian said more than 200 cables were being monitored by more than 500 analysts from the NSA and GCHQ. GCHQ is sharing this information with the National Security Agency.
The operation, known as "Tempora," has been running for 18 months. Documents about the program detail GCHQ's goal of "Mastering the Internet."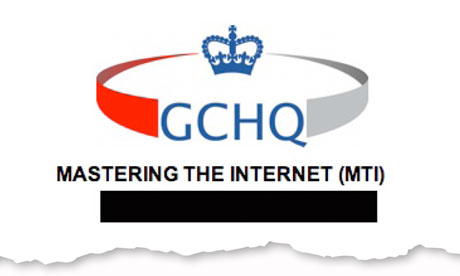 The leak is just the latest in a string of documents disclosed to the paper by Snowden, a former NSA employee now on the lam in Hong Kong.
As The Guardian writes, "The documents appear to suggest the two agencies had come to rely on each other; GCHQ has been able to collect and store a huge amount of information… The NSA, however, had provided GCHQ with the tools necessary to sift through the data and get value from it."
Monitoring satellites and oceanic fiber is what NSA does.
At a cable landing site, Glimmerglass solutions permit new lightpaths between the wet side and dry side to be rapidly and remotely provisioned, switched, monitored and reconfigured in real time. With Photonic Multicasting, one input can be optically split into multiple perfect copies. A Narus box can perform mass surveillance with deep packet inspection.
The OptIPuter is a personal supercomputer that instantaneously connects to global databases as fast as local hard drives. The OptIPuter uses dedicated (not shared) 10-GigE optical strands.
It uses a Glimmerglass optical switch to link those strands into the National LambdaRail (NLR).
In the future, oceanography, medicine, geology, physics and other science research projects will likely use high speed fiber networks and shared databases, say proponents.
It's a new architecture for science.
Related Dailywireless articles include; Snowden: Hero or Traitor?, Ed Snowden: Turnkey Tyranny, Google + SingTel = Unity Submarine Fiber, Submarine Cables Connect America , Google's Transpacific Fiber Ready, Google: Now it's Transpacific Fiber, Fiber Crosses the Pond, Ocean Observatory Network Lands in Oregon, The Other Atlantis, Haiti Earthquake, Japan Tsunami, Ocean Robots Go Long, Amazon Cloud for Ocean Observatories, Ocean Observatories: The Ultimate Splash Page, CitiSense: Cellular Environmental Monitoring, Robot Crosses Atlantic – Underwater, Ocean Observatory Gets Funded, Tsunami Monitoring, Ring of Fire Earthquake, On Mt St. Helens, Plug and Play Environmental Sensor Nets, Google Ocean Unveiled,