As the smartphone market continues to grow, smaller companies are continuing to gain. Despite the share drop from the two market leaders, the whole smartphone industry grew by over 50 percent from a year ago, says research firm IDC.
Apple's share fell to 13.6% from 16.6%, according to Strategy Analytics. Samsung, meanwhile notched a 33.1% global handset share, up from 31.1% last year.
While market share for smartphones dropped 1.8% for Samsung and 2.5% for Apple, their respective shares are a healthy 30.4 and 13.1 percent. Samsung is now shipping more than twice as many smartphones as Apple, with 72.4 million units to Apple's 31.2.
The biggest percentage gainers were LG and Lenovo. Both companies' shipments grew over 100 percent during the past twelve months, pushing their respective market share numbers up by 1.4 and 1.8 percent, and leaving each with roughly five percent of the market. ZTE grabbed 4.2% of the smartphone market.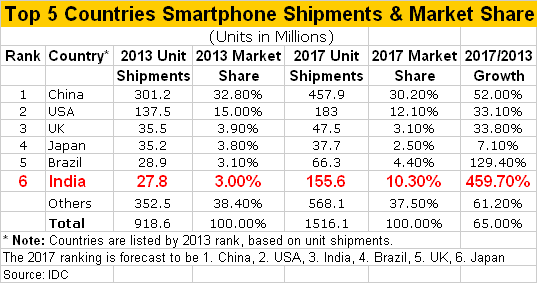 Between 2013 and 2017, smartphone shipments in India are projected to grow 459.7%, says IDC. By 2017, China, the USA and India are predicted to be the biggest buyers of smartphones.
Qualcomm has dominated smartphone processors with a 49% market share in Q1 based on revenue, according to Strategy Analytics. "Qualcomm's LTE Snapdragon chips will help maintain its share for the rest of the year, despite increasing competition from MediaTek, Spreadtrum and Broadcom," according to Sravan Kundojjala, Senior Analyst at SA.