At AUVSI's Unmanned Systems 2013 is the center of the universe for drones this week in Washington, D.C.
It offers more than 100 technical sessions, panels and workshops with top speakers and leading experts.
Raven Aerostar will be featuring their lighter-than-air, persistent surveillance, military and radar technologies at the show. The company has been working closely with Google on Project Loon to provide broadband wireless internet access using Raven's high altitude balloons.
The balloons are designed to be 60 feet tall and fly at an altitude of 66,000 feet. The teams designed sophisticated technology that can control the path of the balloons. Zero Pressure Balloons can maintain altitude from a few days up to multiple months and are capable of both short and long flight durations.
Raven's Tethered Aerostats are designed to support a variety of payloads at altitudes ranging from a few hundred feet to several thousand feet.
Unmanned aerial vehicles, use gas or battery-powered motors.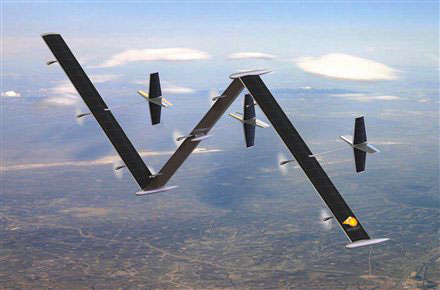 A DARPA program called VULTURE (Very-high altitude, Ultra-endurance, Loitering Theater Unmanned Reconnaissance Element is being developed with Boeing with the SolarEagle flight demonstrator. Boeing is teaming with United Kingdom-based QinetiQ for the program. Maybe they'll monitor all the cell towers in a community.